Belle's
------------------------------------------------------------------------------------------------------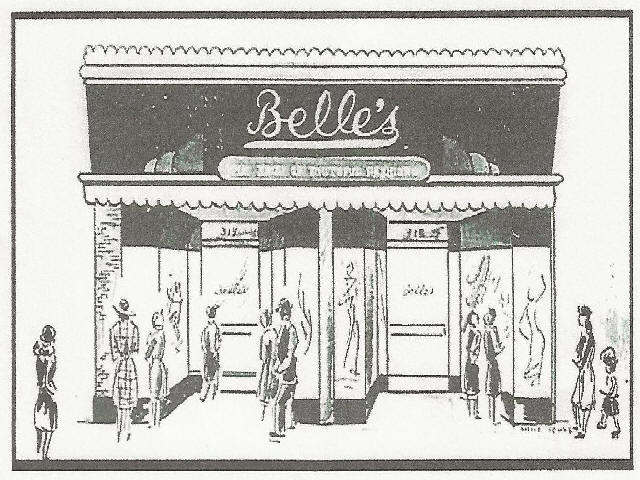 A 1950s newspaper advertisement for Belle's, "The Shop of Youthful
Fashions," showed the modern exterior of the store.
------------------------------------------------------------------------------------------------------
HUNTINGTON — From the day it opened its doors in the 1930s, Belle's,
the popular women's fashion store at 313 9th St., described
itself as "The Shop of Youthful Fashions." The store
was named for Belle Solof, who opened it.
She later sold it to Maurice Rosen.
Born in 1896, Rosen was a native of Philadelphia. When he came to
Huntington, he was first employed at the old First Huntington
National Bank and later at the Huntington Dry Goods Co.
(later renamed the Huntington Store).
When Rosen died in 1966, it was noted he had been
associated with Belle's for 34 years, first as
general manager and later as owner.
Later, that pattern repeated itself when the late Ralph Nelson worked as
the manager of Belle's for 38 years until 1990 when he purchased
the store as a co-owner with Connie Stanley. With Nelson at the
helm, Belle's sponsored Miss West Virginia in the annual
Miss America Pageants in the 1950s and 1960s.
Nelson and Stanley were vocal critics when the city turned 9th Street
between 3rd and 5th avenues into a two-block pedestrian plaza. They
joined other 9th Street merchants in complaining that, with car and
truck traffic banned from the plaza, customers couldn't get to their
stores.They also complained that the plaza's fountains attracted
vagrants, panhandlers and late-night drinkers. In a 1993
interview, Nelson said the plaza "turns into a real party
area just after 2 a.m. when the bars let out. People
are all over the plaza." The complaining merchants
got their way in 1996 when the fountains were
demolished and the plaza was reopened
to vehicular traffic.
A fixture in downtown Huntington for decades,
Belle's closed about 20 years ago.
-----------------------------------------------------------
Note: This Article and picture appeared in the Herald-Dispatch Newspaper on Apr. 28, 2020.
-----------------------------------------------------------
[ Back ]