Big Bear Supermarkets
------------------------------------------------------------------------------------------------------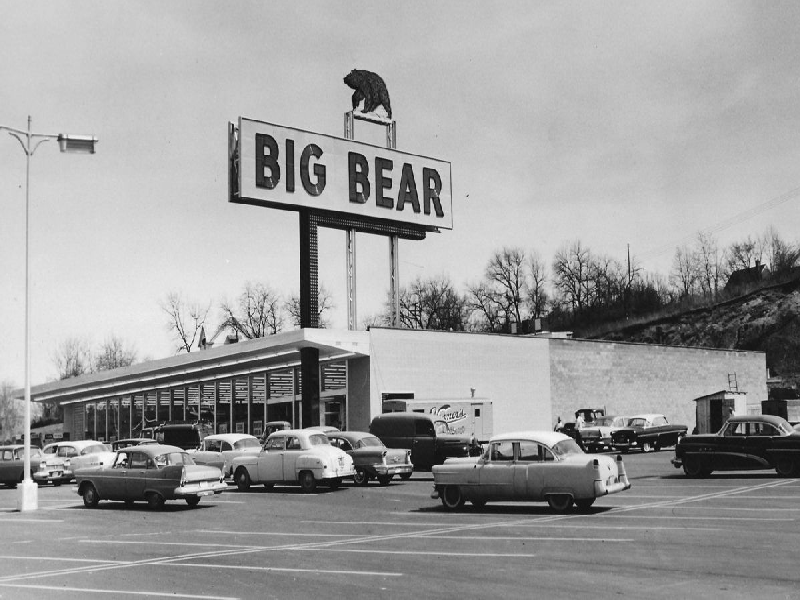 The Big Bear supermarket at Huntington's Fairfield Plaza opened April 8, 1959. Today
the site of the former store is part of the parking lot at Cabell Huntington Hospital.
------------------------------------------------------------------------------------------------------
HUNTINGTON -- For nearly 50 years, local residents who needed to pick up some groceries
could jot down their shopping lists and then head to their favorite Big Bear.
Founded in Columbus, Ohio, in 1933, Big Bear Stores was a major regional supermarket chain.
At its peak the chain operated 70 supermarkets in Ohio, West Virginia and Kentucky -
including three in Huntington and one in Ceredo.
Big Bear was one of the first self-service supermarkets in the Midwest and prided itself at being the
first supermarket in the country to use cashier-operated motorized conveyor belts. It introduced
shopping carts in its stores in 1937 at a time when the carts were still something of a novelty.
Like many other stores, Big Bear had a trading stamp program. For years collecting
their orange and blue "Buckeye" stamps was a passion for many shoppers.
The chain opened its first Huntington store on April 8, 1959, at the Fairfield Plaza shopping center
on 16th Street (today's Hal Greer Boulevard). Grand opening festivities included a group of
performing bears and an appearance by former heavyweight boxing champ Rocky Marciano.
In 1962, Big Bear opened a second Huntington store in a new shopping center at 115 6th Ave.,
the site of the former Huntington Memorial Hospital. In 1976, it opened at the Ceredo Plaza
shopping center. In 1981, it opened at 5th Avenue and 29th Street in a sprawling building
that was vacated when Sears, Roebuck & Co. moved its store
to the then-new Huntington Mall at Barboursville.
In 1989, Big Bear was acquired by a Pennsylvania chain, Penn Traffic, that soon encountered
mounting financial troubles and filed for bankruptcy. In an effort to emerge from bankruptcy,
Penn Traffic agreed to sell or close all the Big Bear stores.
Today, the site of Huntington's first Big Bear is part of the parking lot at Cabell Huntington Hospital, the
1st Street store is now a Food Fair supermarket, the Ceredo Plaza location now houses Harbor Freight
Tools and a Food Fair and the former 29th Street store is now the St. Mary's Education Center.
-----------------------------------------------------------
Note: This Article and picture appeared in the Herald-Dispatch Newspaper on Jul. 13, 2015
-----------------------------------------------------------
[ Back ]