Blue & Gray Lines
------------------------------------------------------------------------------------------------------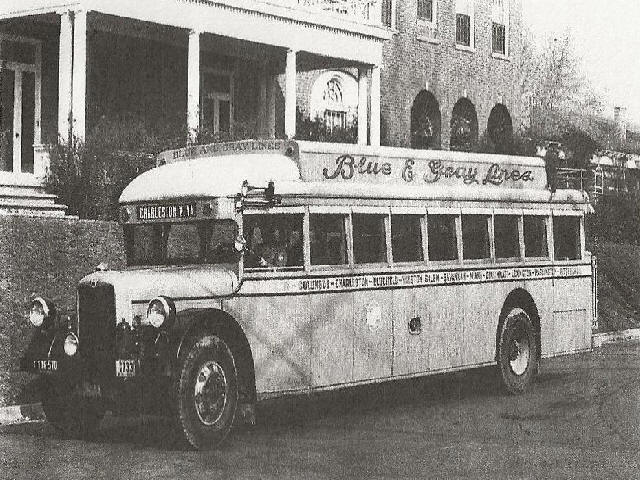 In the late 1920s, B&G Lines offered bus service between Huntington
and a number of communities in West Virginia, Ohio and Kentucky.
------------------------------------------------------------------------------------------------------
HUNTINGTON — The history of the Greyhound buses that now travel West Virginia begins with the
Midland Trail Transit Co., established by Arthur Hill of Charleston in 1924 after he purchased two
other small bus lines, the White Transportation Co. and the Huntington-Charleston Motor Bus Co.
Hill's new company ran buses between Huntington and Charleston
along the Midland Trail, later designated U.S. Route 60.
In 1927, Hill incorporated the Blue and Gray Transit Co. to buy his own
Midland Trail firm and at least three other highway carriers, thus
increasing his route network, expanding it
into Ohio and Pennsylvania.
In the late 1920s, B&G Lines, as it was known, offered bus service from Huntington to
Wayne, Fort Gay, Logan, Charleston, Rainelle, Montgomery, Beckley, Princeton
and Bluefield in West Virginia; to Ironton, Portsmouth, Chillicothe and
Columbus in Ohio; and to Catlettsburg, Ashland,
Louisa and Prestonsburg in Kentucky.
In 1929, B&G Lines joined with the Camel City Coach Co. of Winston Salem, N.C.,
to form the National Highway Transport Co., based in Charleston,
W.Va. In 1932, NHC was renamed Atlantic Greyhound.
Huntington's first bus terminal was on 9th Street between 2nd and 3rd avenues.
Next, the terminal moved to the Hines Building in the 900 block of 5th Avenue.
Later,
the old Lyric Theater in the 800 block of 4th Avenue was remodeled as a
terminal. Still later both Greyhound and its rival, Continental Trailways,
operated out of Huntington's old Baltimore & Ohio Railroad
passenger station, which today is home to the Huntington
Area Convention & Visitors Bureau.
In 1953, when Greyhound built a new terminal at 4th Avenue and 13th Street,
Trailways moved to a former garage just one block away, at 4th Avenue
and 12th Street. Trailways shut its doors there in 1974. Trailways
next briefly used the Greyhound terminal before discontinuing
its Huntington service. In 1994, the Tri-State Transit
Authority purchased the Greyhound terminal. Today,
you can catch a TTA bus or a Greyhound there.
-----------------------------------------------------------
Note: This Article and picture appeared in the Herald-Dispatch Newspaper on Apr. 14, 2020.
-----------------------------------------------------------
[ Back ]