Blue Jay Manufacturing
------------------------------------------------------------------------------------------------------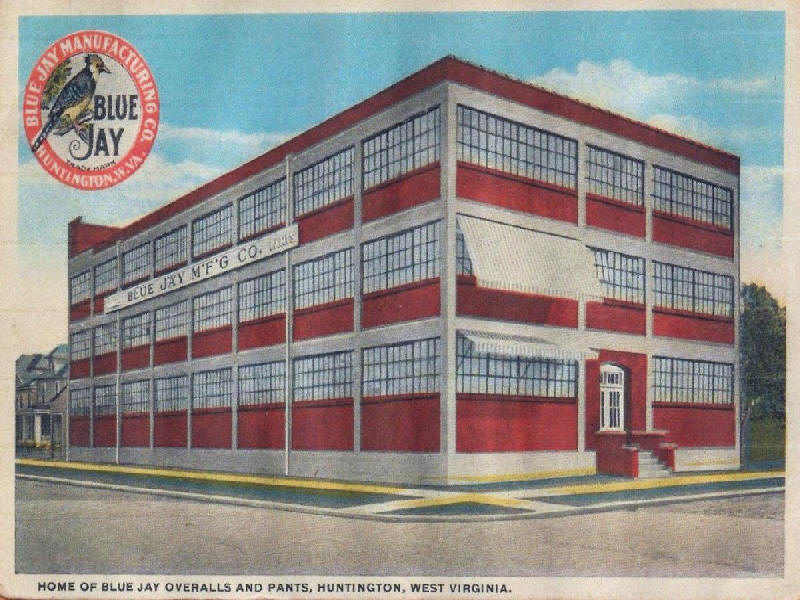 The former Blur Jay Manufacturing plant at 802 15th St. is now a self-storage facility.
------------------------------------------------------------------------------------------------------
HUNTINGTON — Charles W. Watts was one of early Huntington's most successful businessmen.
He was not only president of the Watts, Ritter & Co., a large wholesale firm that distributed
dry goods throughout West Virginia, Ohio and Kentucky, he was a director of the
First National Bank of Huntington, vice president of the Empire Furniture Co.
and president of the Blue Jay Manufacturing Co.
Blue Jay Manufacturing, which occupied a large brick building on the southeast corner
of 8th Avenue and 15th Street, made overalls, work pants and shirts, which were
distributed by Watts, Ritter & Co. The plant was first listed in
the Huntington City Directory in its 1917 edition.
For many years, Charles Montgomery "Mitch" Mitchell was vice president and general manager
at Blue Jay. Born in 1871 in Meridian, Mississippi, Mitchell was a man with an inventive
mind. In 1902, he patented a vending machine that dispensed shoelaces and the
following year built a plant in Portsmouth, Ohio. By 1910, the company
had abandoned the vending machine idea and focused on
manufacturing shoelaces. When Mitchell left the
company, his younger brother took it over.
In 1921, Mitchell moved his wife and daughter to Huntington. A second daughter and
a son were born in Huntington. The 1925 edition of the Huntington City Directory
listed him as vice president and general manager at Blue Jay, a post he
held until 1943, when he left the company. He died
in Winston-Salem, N.C., in 1963.
During World War II, Blue Jay made coats and trousers for the U.S. Army.
After the war, it found it difficult to transition back to civilian work.
Records in the West Virginia Secretary of State's office
indicate the company went out of business in 1948.
After that, the Star Furniture Company used the former factory as a
warehouse for a number of years. The building is still standing,
and today is operated as a self-storage facility.
-----------------------------------------------------------
Note: This Article and picture appeared in the Herald-Dispatch Newspaper on July 16, 2018.
-----------------------------------------------------------
[ Back ]