Boron Service Stations
------------------------------------------------------------------------------------------------------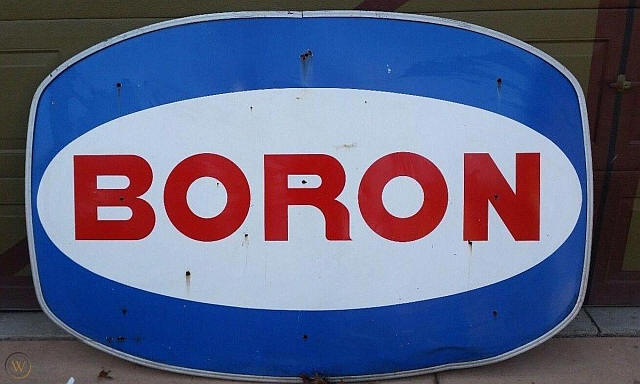 In 1967, Standard Oil of Ohio announced that it had invested
$700,000 to open seven Boron stations in the Huntington area.
Courtesy James E. Casto
------------------------------------------------------------------------------------------------------
The Huntington area once had a number of Boron
brand service stations. All are long since gone.
In 1911, the U.S. Supreme Court ruled that Standard Oil
of New Jersey was an illegal monopoly and ordered
that the giant company be broken up into 34
different entities, divided primarily
by region and activity.
One of the new companies formed as a result of the ruling
was Standard Oil of Ohio. After the historic breakup, it
operated service stations under the Sohio brand name
in Ohio but was prohibited from using the Standard
name in other states. In nearby states, including
West Virginia, it used the Boron brand name
instead, but with an otherwise similar logo.
On July 11, 1967, Joseph D. Harnett of Cleveland, marketing vice
president for Sohio, told a Hotel Frederick luncheon the company
had invested $700,000 to open seven Boron stations in the
Huntington area. Six of the stations, he said, already were
open for business and the seventh soon would be.
The luncheon was arranged by the Huntington
Chamber of Commerce to welcome
Boron to the Huntington area.
Harnett described the company's investment as an expression
of " our confidence in the future growth of the community
and West Virginia." He said that since entering the
West Virginia market, Boron had opened 16
service stations, most of them in the
state's Northern Panhandle.
In 1968 Sohio and British Petroleum merged. At first,
the two companies continued to operate in tandem
but ultimately British Petroleum took full control
of the merged operations, which were
unified under the BP brand name.
By 1991, BP had either closed all Sohio and Boron
service stations or rebranded them as BP stations.
-----------------------------------------------------------
Note: This Article and picture appeared in the Herald-Dispatch Newspaper on Dec. 27, 2022..
-----------------------------------------------------------
[ Back ]