BrewBakers
------------------------------------------------------------------------------------------------------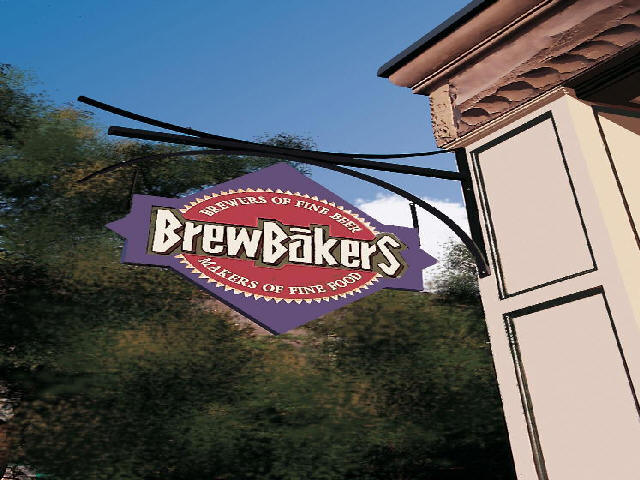 BrewBakers was a unique combination of brewpub, restaurant and bakery.
------------------------------------------------------------------------------------------------------
HUNTINGTON — In 1871, the year of the city's birth, Bradley W. Foster built a two-story
wooden hardware store on the southwest corner of 3rd Avenue and 9th Street.
In 1894, he replaced the wooden structure with a three-story brick building.
In 1923, the building was renovated and enlarged, becoming the home of the
Huntington Dry Goods Co., later renamed the Huntington Store, one of
the city's popular department stores. With the store's closing in
1982, the building sat vacant and neglected.
At one point, it housed a flea market.
But in 1996, the old building stirred with new life as the home of
BrewBakers — a unique combination of brewpub, restaurant
and bakery. The former department store offered just what
the fledgling enterprise needed — plenty of room
and an interesting structure with huge windows
and a vintage 1890s tin ceiling
14 feet overhead.
The atmosphere at BrewBakers was casual and inviting,
the food delicious and the beer tasty. Gleaming metal
tanks visible to both diners and passersby on the
street produced an array of different brews.
The partners who invested a total of $2 million to open BrewBakers hired
Angela Wurges, a 29-year-old brewer from Germany, to set up the micro-
brewing equipment, develop and test beer recipes and train the
establishment's employees in the art of making beer.
The restaurant served steaks, pastas, wood-grilled pizza, soups,
salads and other dishes. Meanwhile, the bakery offered
hearth-baked breads, croissants and muffins.
BrewBakers was one of a half-dozen downtown Huntington
restaurants that closed in 1998-99, victims of an ailing
economy. But during its brief life, BrewBakers
served up some enjoyable beers, memorable
meals and fun times.
Today, the building houses the Marshall Hall of Fame Café,
a restaurant with a Marshall University sports theme.
-----------------------------------------------------------
Note: This Article and picture appeared in the Herald-Dispatch Newspaper on Jan. 5, 2021.
-----------------------------------------------------------
[ Back ]