Buffington Elementary
------------------------------------------------------------------------------------------------------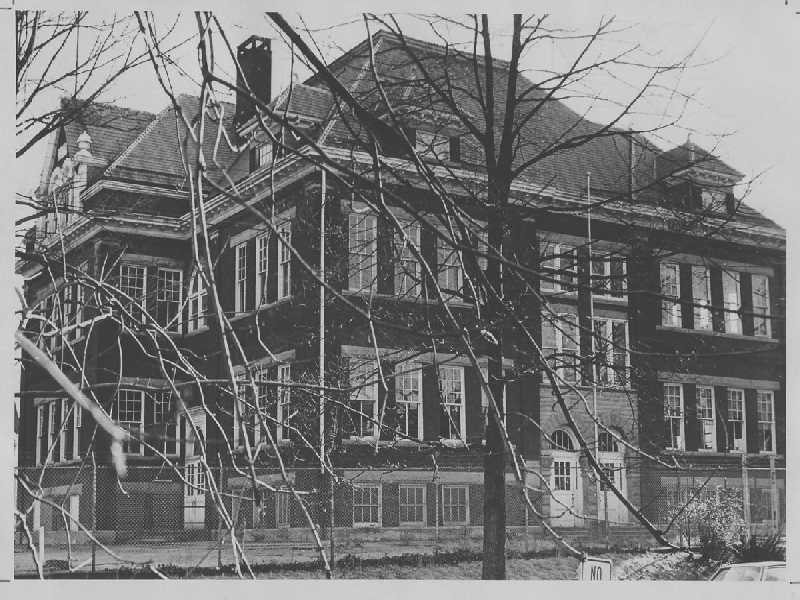 Buffington Elementary School served the community for 78 years.
------------------------------------------------------------------------------------------------------
The city of Huntington's first school was a four-room brick building built at 720 4th Ave. in 1872,
one year after the city's birth. Four more rooms were added to the building in 1882, but ultimately
the growing student body prompted construction of a new larger school.
The first school building had been named for the Buffington family, members of which played
a prominent role in the region's early history. When a new school was built on the corner of 5th
Avenue and 6th Street, it was named Buffington Elementary. (The Board of Education then gave
the original 4th Avenue building to the city, which used it to house Huntington's first hospital.)
The city's first school building had been severely plain, but the new school that opened in 1897
was an imposing, Victorian-like design. Old records show that in 1896 the school's principal
was Miss Sallie Peyton, who was paid a less than princely salary of $60 a month.
Buffington once served more than 300 students. Its alumni include television game show host Peter Marshall
and The Herald-Dispatch sports columnist Chuck Landon. By the 1960s, the school's enrollment had declined
to little more than 200 and by 1975 it had dropped even lower, to 115. Citing the declining enrollment
and the rising cost of upkeep for the aging building, the school board ordered Buffington closed.
On the final school day at Buffington, a veteran teacher told a Herald-Dispatch reporter that despite the building's
peeling paint and cracked plaster, it seemed to have a soul; and leaving it was almost like a death in the family.
In 1976, the former school was sold at public auction, with Huntington Lodge 64 of the Independent Order
of Odd Fellows (IOOF) submitting the winning high bid of $181,000. In 1996, the John W. Clark Oil Co.
purchased the building, demolishing it to make way for construction of a service station/convenience store.
-----------------------------------------------------------
Note: This Article and picture appeared in the Herald-Dispatch Newspaper on Mar. 23 , 2015
-----------------------------------------------------------
[ Back ]