Burger Chef
------------------------------------------------------------------------------------------------------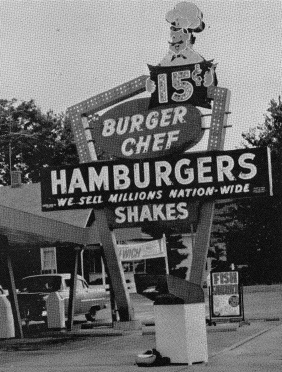 The Burger Chef fast-food chain had five locations in the Huntington area.
All five were closed in 1985 when their franchise holder declared bankruptcy
------------------------------------------------------------------------------------------------------
HUNTINGTON — The Burger Chef fast-food restaurant chain began
operating in 1954 in Indianapolis, Indiana, and steadily expanded to
towns throughout the United States and Canada. At its peak
in 1973 it had 1,050 locations, including
five in the Huntington area.
Its Huntington area restaurants were located at 2705 5th Ave.,
1330 3rd Ave., 116 5th Ave., 6435 U.S. 60 East near
Barboursville and 1101 Oak St. in Kenova.
Burger Chef Restaurants offered a double burger, called the
Big Shef, and later a quarter-pound hamburger, the Super
Shef. Subsequently, they added the Works Bar, where
customers added their own toppings to hamburgers.
Today, a burger, some fries, a drink and a toy of some kind are synonymous
with the McDonald's Happy Meal. One might assume that the Golden
Arches was the first to offer the iconic idea. Not so. Burger Chef was
the first fast-food eatery to come up with the food-toy combination.
In 1973, it changed meal time for kiddos forever when it bundled
its food with toys. When McDonald's released its first Happy
Meal about six years later, an unhappy Burger Chef sued,
charging McDonald's with stealing the concept.
Unfortunately for Burger Chef, its
lawsuit was unsuccessful.
Burger Chef was also the first fast-food chain to market what has
since become a familiar fast-food staple: the bargain priced
burger-fries-and-drink combo meal. Burger Chef dubbed
it the "Triple Threat" and initially sold it for just 45 cents.
The five Huntington area Burger Chefs were franchise outlets
owned and operated by the Lemle Management Corp.,
whose creditors forced it into bankruptcy. In 1985 the
management company shut down its Huntington area
Burger Chefs, leaving their 115 employees jobless.
Meanwhile, the days were numbered for the Burger Chef brand
when it was acquired by the Hardee's chain. A few former
Burger Chefs were converted to Hardee's
locations, and the others closed.
-----------------------------------------------------------
Note: This Article and picture appeared in the Herald-Dispatch Newspaper on March 9, 2021.
-----------------------------------------------------------
[ Back ]