Butler Furniture
------------------------------------------------------------------------------------------------------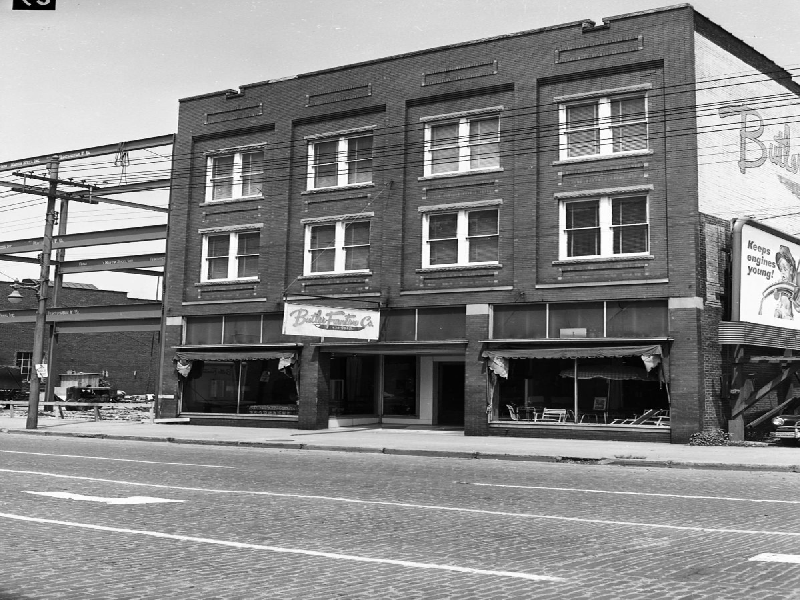 The Butler Furniture building, shown here in a 1959 photo, was demolished in 2001.
------------------------------------------------------------------------------------------------------
HUNTINGTON -- In 1905, William Freeman Butler opened a Huntington furniture store that would
operate for more than 80 years. In its earliest years, the Butler Furniture Co. not only sold furniture
but also provided undertaking services - a combination that would be unthinkable today
but was common for furniture stores at the time.
The original Butler's furniture store occupied a site on the west side of the 400 block
of 20th Street. In 1915, the business erected and moved into a new three-story
building across 20th Street from its original location.
W.F. Butler died on Christmas Day, 1949. Long before his death, ill health caused him to turn over management
of his store to his son and daughter. John G. Butler and Ruth E. Butler took over the store in 1929 and for the
next 50-plus years the brother and sister team helped generations
of local shoppers select furnishings for their homes.
A 1955 addition doubled the store's size. In 1959, the company acquired a two-story building
to the north on 20th Street and built a two-story connecting annex.
The Butlers retired in 1987, selling their family-owned store to a group of local investors headed
by Kenneth Stettler Jr. Later. When the store closed, Marshall University purchased the building.
Initially, Marshall used the building for storage. Then, in 2001, the old building was demolished
to provide badly needed additional parking spaces for the adjacent Joan C. Edwards Stadium.
John Butler passed away shortly after his retirement and his sister Ruth died in 2005.
The brother and sister were long-time supporters of both athletics and academics at Marshall.
In 2006, the president's sky box at Edwards Stadium was named in their honor. Their
names are also on the university's Pathway of Prominence, which recognizes
those who have been exceptionally generous supporters of the school.
-----------------------------------------------------------
Note: This Article and picture appeared in the Herald-Dispatch Newspaper on Sep. 29 , 2014
-----------------------------------------------------------
[ Back ]