C & P Telephone
------------------------------------------------------------------------------------------------------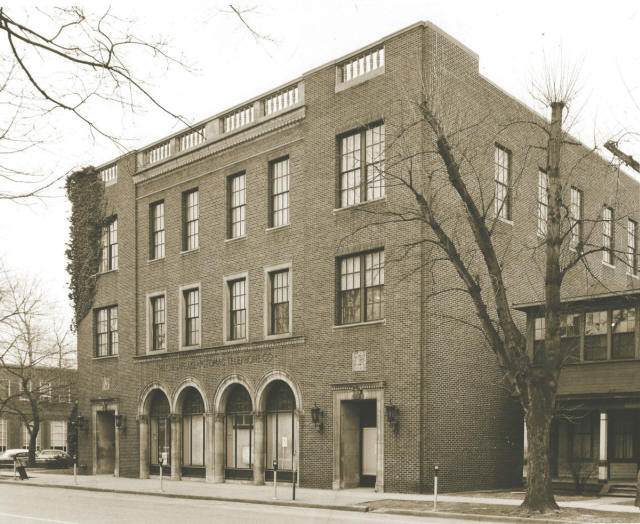 Built in 1925, the former C&P Telephone Building in the 1100 block of 6th. Avenue
is now occupied by Frontier Communications. Taken in the 1950's, this photo shows
the building as it looked before all its windows, including the Arched windows on
the ground floor, were bricked over.
------------------------------------------------------------------------------------------------------
HUNTINGTON -- Telephone service first came to Huntington in 1883 when two local businessmen,
George C. Pope and H.C. Everett, strung a phone line between Guyandotte and downtown Huntington.
The two men had a contract with Southern Bell Telephone Co. to operate their line
until such time as the company decided to offer service in Huntington.
In 1884 Southern Bell came to town but was able to sign up only a handful of subscribers
and so called it quits. In 1891 it came back for another try and this time was successful.
The city got a second telephone company in 1895 when the locally owned Huntington Mutual
Telephone Co. was established. In the early years of the telephone, it wasn't unusual for a
town to have more than one phone company. The two rival local companies operated
side by side until 1910, when Southern Bell purchased Huntington Mutual.
In 1917, Chesapeake & Potomac Telephone was incorporated as a unit of the
Bell System, operated by giant American Telephone & Telegraph (AT&T).
C&P then took over Southern Bell's operations in West Virginia.
In 1925, C&P built a building in the 1100 block of 6th Avenue in Huntington
to house its offices and equipment. Much altered and expanded
over the years, the building remains in use.
For nearly 70 years, from 1917 until 1984, C&P was a familiar part of the daily fabric
of life in West Virginia. In 1984, the C&P name disappeared when it became part of
Bell Atlantic, one of seven new regional companies formed after the courts
ordered the breakup of AT&T. In 2000, Bell Atlantic merged
with GTE to form Verizon, and in 2009 Verizon sold its
land-line telephone business to Frontier Communications.
-----------------------------------------------------------
Note: This Article and picture appeared in the Herald-Dispatch Newspaper on April 3, 2017
-----------------------------------------------------------
[ Back ]