C&O Engine 490
------------------------------------------------------------------------------------------------------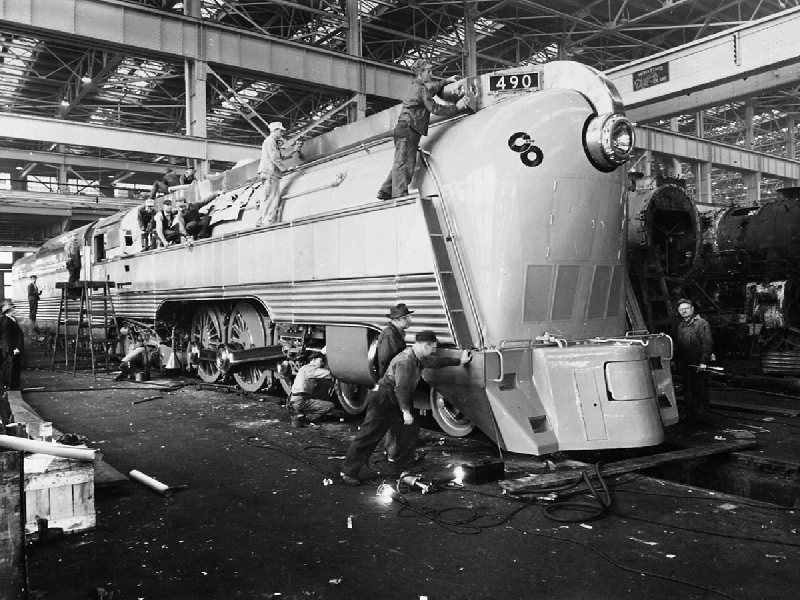 Workers at the C&O's Huntington Shops streamline the railroad's vintage 1926 Engine 490.
------------------------------------------------------------------------------------------------------
HUNTINGTON -- Engine 490 was constructed by the American Locomotive Co. in 1926 as one of five
"Pacific" locomotives built for the Chesapeake & Ohio Railway. Initially, the five were used by the
C&O on its crack passenger trains, including "The Sportsman" and the "George Washington."
Later, when the railroad acquired newer locomotives, they were
relegated to secondary passenger trains.
Railway passenger traffic boomed during the World War II years.
C&O Chairman Robert R. Young was convinced that heavy
traffic would continue and so drafted an ambitious
plan to upgrade the C&O's passenger service.
It ordered cars for a new luxury train, "The Chessie," to be hauled by a radically
new steam-turbine locomotive. A prototype of a new passenger station of
modern Art Deco design was built at Prince, West Virginia.
Young envisioned that the design would be replicated
all along the railroad's route.
At the same time, the C&O's Huntington Shops upgraded the mechanics of the 490
and the other "Pacific" locomotives, which were redesignated as "Hudsons."
The old locomotives were encased in new shells that
gave them a modern, streamlined look.
But Young had miscalculated badly, With auto sales booming, new highways being built,
and the airlines boarding more and more flyers, the C&O's passenger traffic
plummeted. The "Chessie" never ran. Many of the new cars ordered
for it were diverted to other railroads. The new steam-turbine
locomotive proved a dud. No more Art Deco stations were
built. And the rebuilt "Hudsons" were used only briefly.
In 1953, Engine 490 became the last passenger steam locomotive to operate
in scheduled service on the C&O. It was stored in the Huntington
Roundhouse until 1968 when it was moved to the Baltimore &
Ohio Railroad Museum in Baltimore.
-----------------------------------------------------------
Note: This Article and picture appeared in the Herald-Dispatch Newspaper on Dec. 12, 2017.
-----------------------------------------------------------
[ Back ]