C&O Roundhouse
------------------------------------------------------------------------------------------------------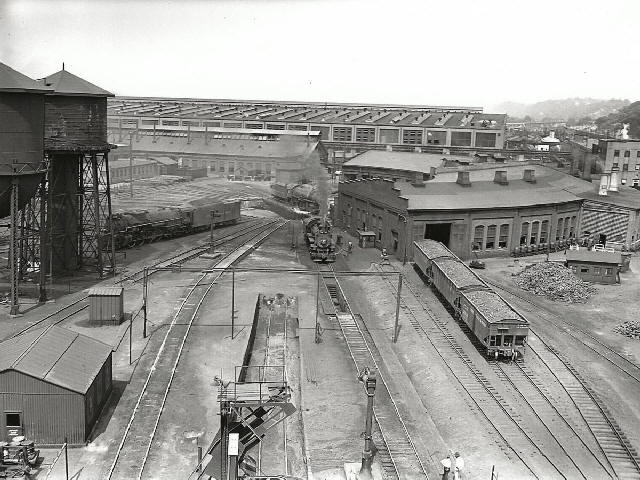 The old C&O Roundhouse, shown at right in this 1948 photograph, was an integral
part of the railroad's Huntington Shops for decades. It's since been demolished.
------------------------------------------------------------------------------------------------------
HUNTINGTON -- Early steam locomotives normally traveled forward only. Although
reverse operations capabilities were soon built into locomotive mechanisms, the
controls were normally optimized for forward travel, and the
locomotives often could not operate as well in reverse.
Turntables allowed locomotives or other rolling stock to be turned around for the
return journey, and roundhouses, designed to radiate around the turntables,
were built where locomotives could be stored and serviced.
Today's diesel locomotives run equally well in either direction, so turntables
and roundhouses are no longer needed. A few are still standing,
but most have been demolished. That was the fate of the
old roundhouse at CSX's Huntington Shops.
When rail tycoon Collis P. Huntington, then president of the Chesapeake &
Ohio, built his new town on the banks of the Ohio River, he hired
noted Boston civil engineer Rufus Cook to draw up a town
plan so lots could be offered for sale to new businesses
and residents. Cook's plan reserved partof the land
for the C&O for the construction of right of
way, passenger and freight depots,
extensive machines and car
shops and, understandably,
a roundhouse.
"From the very sketchy data available, it appears the first roundhouse at the
Huntington Shops was completed in 1873," said Thomas W. Dixon Jr.,
founder, chairman and president emeritus of the C&O Historical
Society (COHS). "A new building was built, it seems, in
1883, enlarged in 1905 and enlarged again in 1929,
when the Huntington Shops were virtually rebuilt."
With the coming of diesel locomotives, the old roundhouse
no longer served any purpose and was demolished.
The COHS archives include no information on the
exact date of its demolition, Dixon said.
-----------------------------------------------------------
Note: This Article and picture appeared in the Herald-Dispatch Newspaper on Sep. 10, 2019.
-----------------------------------------------------------
[ Back ]