C-K High School
------------------------------------------------------------------------------------------------------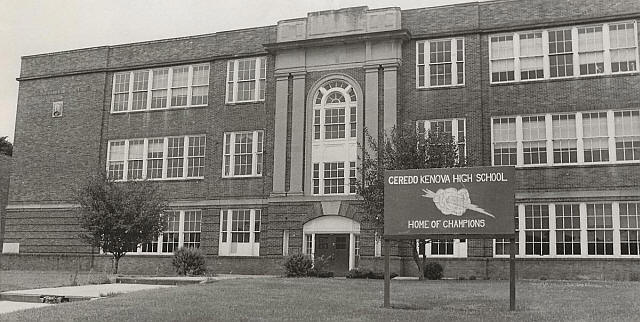 The cornerstone for Ceredo-Kenova High School was laid in 1921, and
for decades the school was a cornerstone of the two communities.
File Photo | HD Media
------------------------------------------------------------------------------------------------------
Ceredo-Kenova High School is considered to have begun in 1894 with its
first graduating class, which had only three graduates. For more than
20 years, all high school courses were taught at Ceredo Grade
School. But as the number of students grew, plans were
made for a new high school building,
which was completed in 1923.
Over the years, C-K High was known for its talented athletes.
In 1916 the school created its first boys and girls basketball
teams. In 1921 it established its first football team, the
C-K Hornets. They wore old green-and-white
uniforms donated by the Marshall College
football team. Green and white were
soon adopted as the school colors.
In the 1920s, Herald-Dispatch sportswriter Duke Ridgley,
describing one of their games, referred to C-K as the
"Wayne Wonders." The name Wonders stuck and
replaced the hornet mascot. C-K won its first
state football championship in 1928. The
school would go on to win 11 football
championships, along with
championships in
basketball, cheerleading
and baseball.
In 1998, declining enrollment in schools across Wayne County
prompted the closure of C-K High, Vinson High and Buffalo
High, with students at the three schools moved to
newly constructed Spring Valley High.
C-K's football stadium and its Wonderdome gymnasium were used
for elementary and middle school games, while the C-K
Alumni Band kept using the old school's band room.
The rest of the building sat vacant for years
In 2011, the Kenova Elementary School building on Poplar
Street was condemned. So the old high school building
was torn down and a new elementary school built
in its place. The Wonderdome was saved from
demolition after donations were made to
restore it. It has since been renamed
the C-K Alumni Gym.
C-K High fielded several notable alumni, including singer
Michael W. Smith, major league baseball player
Donny Robinson and Marshall University
President Brad Smith.
-----------------------------------------------------------
Note: This Article and picture appeared in the Herald-Dispatch Newspaper on Jan. 31, 2023.
-----------------------------------------------------------
[ Back ]