Cabell County Jail
------------------------------------------------------------------------------------------------------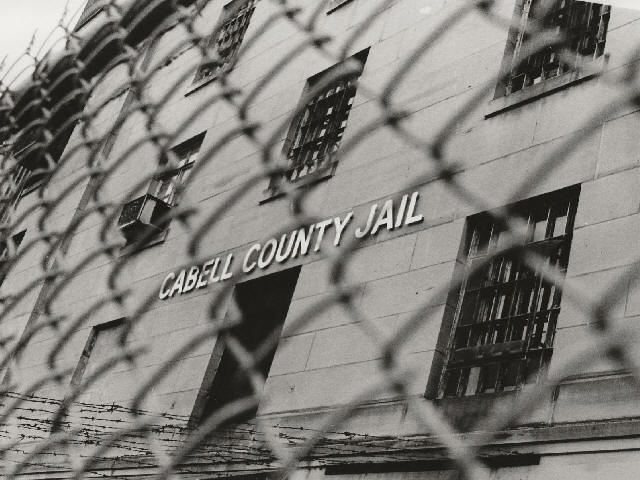 The long-unused Cabell County Jail is slated for demolition.
------------------------------------------------------------------------------------------------------
HUNTINGTON — Completed and opened in 1940, the Cabell County Jail is 80 years old. Odds
are it won't still be standing this time next year. The Cabell County Commission has hired Raze
International Inc. of Shadyside, Ohio, to demolish the jail. The contractor, who submitted a
low bid of $198,000, hopes to begin work in June.
When Cabell County moved the county seat to Huntington from Barboursville in 1887,
the county initially shared space in Huntington's town hall on the east side of the
400 block of 9th Street. That space soon became inadequate, and in 1892 the
county bought the present courthouse site — the block bounded by 5th and
4th avenues from 8th to 7th streets. It wasn't until 1895 that the county
felt financially ready to have plans for a new courthouse prepared.
That was done, and a foundation for the
courthouse was constructed.
No further work was done on the new courthouse until the following year.
But the county did build a jail building — a buff-colored brick and
sandstone structure three stories high with a slate roof. Erected
near the northwest corner of the block, it would hold the
county's prisoners for more than 40 years,
until a new, modern jail was built.
When county officials began planning the addition of a new east wing
on the courthouse in 1938, they decided the time had come to build
a new jail. The old jail was jacked up and moved to the south,
making it possible to build the new jail on the site of the
original lockup. The old jail was then demolished,
and the new east wing and jail were
dedicated March 23, 1940.
Designed to hold 240 prisoners, the new four-story jail cost
$240,000 to build, with roughly half the cost covered
by a federal grant. A bridge connected the jail to
the common pleas courtroom on the
third floor of the courthouse.
Today, the county's prisoners are housed at the Western Regional
Jail in Barboursville, built in 2003 as part of a statewide
program to replace West Virginia's county jails
with a network of regional facilities.
-----------------------------------------------------------
Note: This Article and picture appeared in the Herald-Dispatch Newspaper on Apr. 7, 2020.
-----------------------------------------------------------
[ Back ]