Cabell Elementary School
------------------------------------------------------------------------------------------------------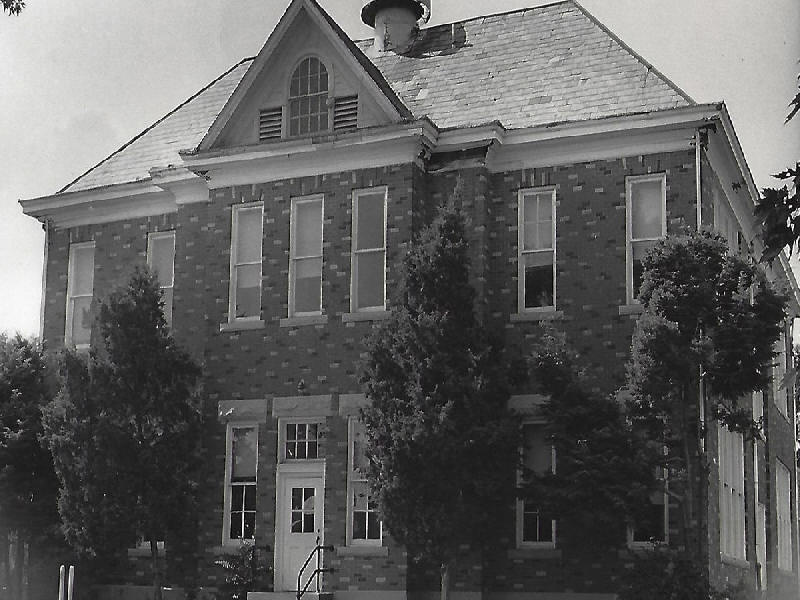 Opened in 1896, Cabell Elementary School was closed in 1977.
------------------------------------------------------------------------------------------------------
HUNTINGTON — In 1889, the West Virginia Legislature enacted a measure providing for a
school board of six members to administer the school affairs of the Huntington Independent
School District. The first board elected under the law included Sam Gideon, B.H.
Thackston, R. Enslow, H.M. Adams. W.O. Wiatt and H.C. Simmons.
Gideon was elected the board's president and, with the
exception of one year, held that post until 1899.
In 1933, the Legislature mandated that the state go to what's called the
"county unit" system of operating its public schools. Local school
boards such as the one in Huntington were abolished
in favor of one school board per county.
In the 44 years it operated the city's schools before turning that responsibility
over to the new Cabell County Board of Education, the Huntington
board built a number of schools.
Among them was Cabell Elementary School, erected at 1030 Adams Ave.
in 1896. The school was named for William H. Cabell, who was
governor of Virginia from 1805 to 1808. (Cabell's name was
also bestowed on the county when it was formed in 1809.)
Early enrollment figures for Cabell Elementary have been lost. We
know that in the late 1950s and early 1960s it had fewer than
200 students. In the 1955-56 school year it had 193
students and in 1960-61 there were 194 students.
In 1961, Cabell Elementary had a brief moment in the spotlight when it was named the
winner in a citywide competition sponsored by the Huntington Fire Department
and the West Virginia Cleanup Campaign. Fire Chief John W. Gallagher
praised the Cabell students for leaving "no stone unturned" in cleaning
up their school and surrounding neighborhood. Principal Clara
Chapmen accepted the trophy on behalf of the students.
By 1976, Cabell's enrollment had dwindled to 120 pupils. Accordingly, the
old school was ordered closed the following year and its pupils
were distributed between Washington, Monroe and Jefferson
elementaries. It took three attempts, but the former schoo
l building was finally sold at public auction in 1978.
-----------------------------------------------------------
Note: This Article and picture appeared in the Herald-Dispatch Newspaper on Nov. 06, 2017.
-----------------------------------------------------------
[ Back ]