Cabell Library Bookmobiles
------------------------------------------------------------------------------------------------------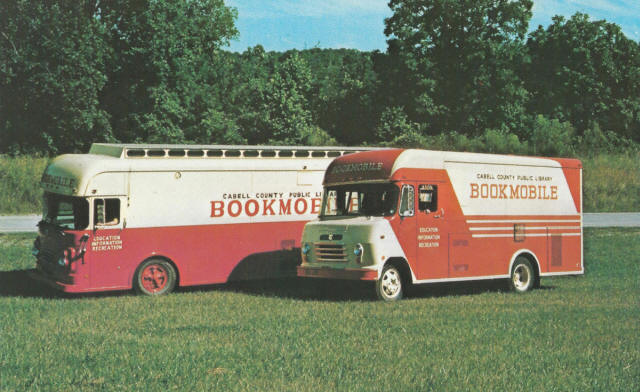 The Cabell County Pubic Library once operated two bookmobiles, named Uncle Remus
and Gulliver. The library discontinued its bookmobile service in 1995.
------------------------------------------------------------------------------------------------------
HUNTINGTON -- For more than 30 years, hundreds of readers, both young and old, eagerly awaited
the arrival of the Cabell County Public Library's bookmobile at their school or in their neighborhood.
At one point, the library operated two bookmobiles - a big bus-sized
vehicle named Uncle Remus and a much smaller van called Gulliver.
During the school year, the bookmobiles mainly served rural schools in Cabell and Wayne counties.
During the summers, their routes were re-designed to take adults into account as well.
Thus, a typical summer day for one of the bookmobiles might have included roadside stops at a fire station,
a church, a rural grocery store or maybe even a gas station. At each stop, the bookmobile would be greeted
by a group of youngsters and adults waiting with books in hand, ready to check in those they've read
and check out a stack of new titles.
But the bookmobile era came to an end in 1995 when the library's Board of Trustees -
citing increasing costs and declining circulation - called a halt to the service.
Library Director Judy Rule noted that bookmobile circulation had declined from a high of 80,000
books a year to 30,000, while the library system had expanded its network of branch libraries,
now serving neighborhoods once reached only by bookmobile. Continuing the service
would require purchasing a new $80,000 vehicle, an outlay the library
simply couldn't afford, she said.
"It's kind of sad," Rule told The Herald-Dispatch in an interview after the decision.
"I grew up in Fayette County and my first contact with the library was the bookmobile.
It's kind of like closing a community school. But times have changed."
-----------------------------------------------------------
Note: This Article and picture appeared in the Herald-Dispatch Newspaper on Aug. 15, 2016
-----------------------------------------------------------
[ Back ]