Camden Park Mound
------------------------------------------------------------------------------------------------------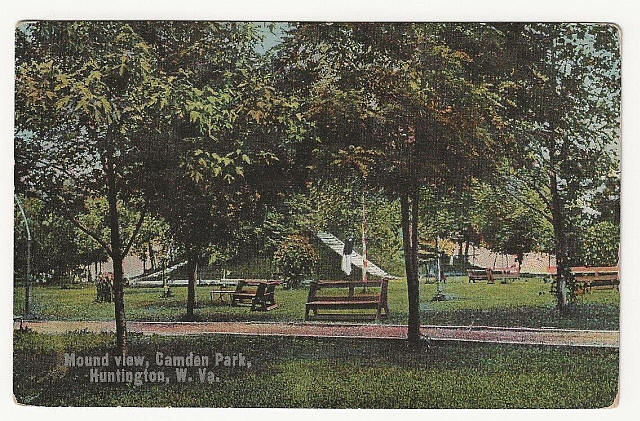 This vintage postcard offers a good view of the Adena mound at
Camden Park, the third-largest in West Virginia. In the parkís
early years, the mound was topped by a bandstand.
Postcard courtesy of James E. Casto
------------------------------------------------------------------------------------------------------
Camden Park, located on U.S.60 just west of Huntington, has a flat-topped,
conical burial mound near the junction of Twelve Pole Creek and the
Ohio River. The mound has never been excavated, but it is believed
to have been built by the Adena Culture, which flourished
in the area between 800 B.C. to around 100 A.D.
More than 400 similar mounds have been documented in West Virginia,
and it is likely that many more existed in the past but over
time have been destroyed by the creation of
roads, railroads and buildings.
Archaeologists say thereís no way of knowing what the mound
builders called themselves. The name ďAdenaĒ comes
from the estate of Ohio Gov. Thomas Worthington
in Chillicothe. His estate had a large mound
which was one of the first to be excavated.
The predecessors of the Adena peoples (known as the Archaic Culture)
were highly mobile hunter-gatherers who subsisted primarily on hunting
wild animals and finding wild plants to eat. They would travel in
relatively small groups and live in temporary campsites. In
contrast, the Adena were the first people in the region to
settle in small villages, cultivate crops, make pottery,
establish trade over long distances with other Native
Americans, and create mounds and other earthworks
to bury their dead and use for ceremonies.
In Camden Parkís early years, its mound was topped by
a bandstand. Itís the third-largest Adena mound in West
Virginia. The stateís second-largest Adena mound in
the state, the South Charleston Mound, is less
than an hourís drive away. Further north
in Moundsville, West Virginia, is the
Grave Creek Mound, the largest
Adena mound in the state.
-----------------------------------------------------------
Note: This Article and picture appeared in the Herald-Dispatch Newspaper on Oct. 20, 2023.
-----------------------------------------------------------
[ Back ]