Canda Fire Station
------------------------------------------------------------------------------------------------------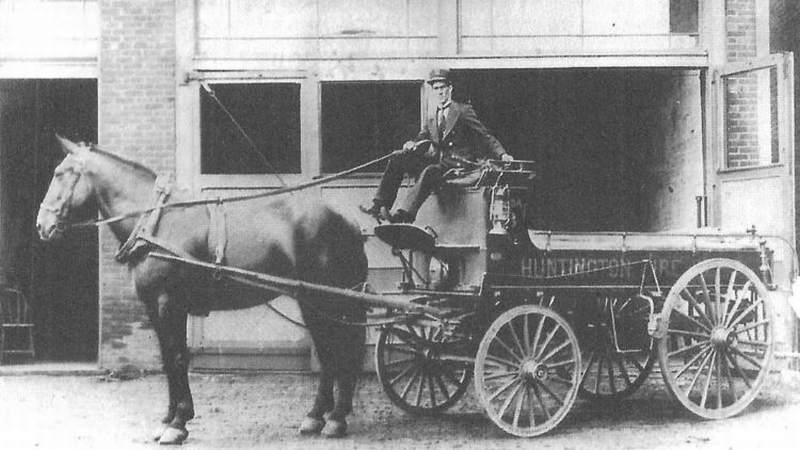 Fireman Elza Dora poses with a horse-drawn fire wagon in front of the Canda Fire Station
on 3rd. Avenue near 21st. Street. The year was 1910. The Canda Fire Station opened in
1910 and remained in use until 1968, when it was replaced by the University
Station at 6th. Avenue and 20th. Street.
------------------------------------------------------------------------------------------------------
HUNTINGTON -- In 1887, workers at the Ensign Manufacturing Co., the forerunner of today's ACF Industries,
organized an in-plant fire company, the Ensign Volunteer Hose Co.
The president of the Ensign concern was William H. Barnum of Connecticut. When Barnum died in 1889,
he was succeeded as president by Ferdinand E. Canda (whose name was often misspelled and
mispronounced as "Canada"). Canda would remain Ensign's president for 10 years.
Relatively little is known about Canda, who was born about 1842 and died in 1920. However,
records for Ensign Manufacturing indicate he was a prolific inventor with a great many patents
to his credit. Many of his designs were produced by the Ensign plant.
Even as the rail car industry turned increasingly to steel construction, Canda remained an advocate for
wooden car construction. Among his designs was an improved stock car, dubbed the Canda Cattle Car,
which was widely used by the railroads of the day.
Canda also owned the Canda Lumber Co. of Georgia, which supplied the
Ensign plant with the Georgia pine it used for building its rail cars,
Apparently eager to honor their new boss, the Ensign plant's volunteer firefighters petitioned Huntington City Council
to allow them to change the name of their unit from Ensign to Canda. Their request was granted.
When the city opened its own fire station in the 2000 block of 3rd Avenue in 1890, the Canda name
was simply carried over to it. The Huntington Fire Department used the Canda station for an incredible
78 years until it was finally closed in 1968 and replaced by a new station at 6th Avenue and 20th Street.
-----------------------------------------------------------
Note: This Article and picture appeared in the Herald-Dispatch Newspaper on Dec. 14 , 2015
-----------------------------------------------------------
[ Back ]