Capitol Furniture Building
------------------------------------------------------------------------------------------------------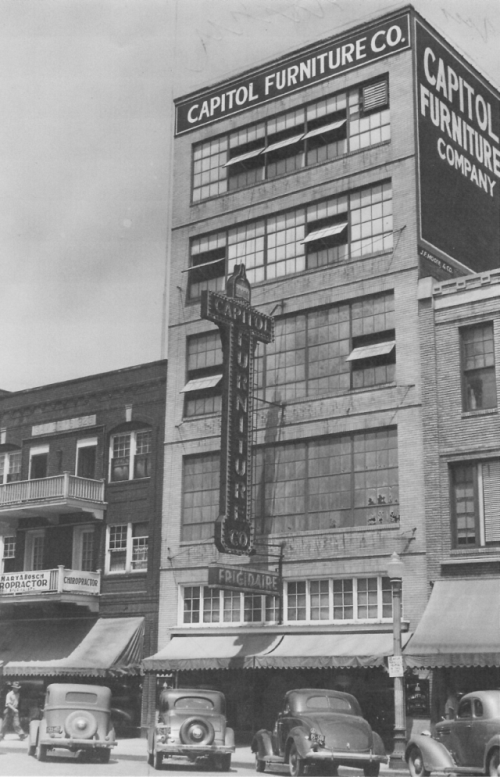 For many years, Capitol Furniture, shown here in a 1939 photo, was one of a half
dozen furniture stores in downtown Huntington. One by one, All of them closed.
------------------------------------------------------------------------------------------------------
HUNTINGTON -- Louis Kraft came to Huntington from New Jersey in 1914 and
established the Capitol Furniture Co., which he operated for nearly 50 years.
For many years, Kraft's store, located at 746 4th Ave., across from the main entrance of the
Cabell County Courthouse, was one of a half-dozen furniture stores doing business
in downtown Huntington. One by one, all of them closed their doors.
Kraft was a member of B'nai Israel Congregation and B'nai B'rith Lodge.
After Kraft's death in 1961, Capitol Furniture continued in business until the mid-1960s.
From 1972 to 1981, the former furniture store building was occupied by the Kenny Music Co.
The 4th Avenue building was the third location for Kenny's, which sold musical
instruments, sheet music and records, and provided music lessons.
In the 1980s, the building was home to Ronk's Uniform Center,
which later moved to the 800 block of 7th Avenue.
The five-story building's most recent tenant was a Buffalo Wild Wings restaurant on the
first-floor level. It closed when a new location was opened at the Huntington Mall.
The building's new owners, Paul Davis and Shawn Dixon, have given it a new facade
and gutted the interior in a top-to-bottom renovation. Davis is general manager of the
Tri-State Transit Authority, and Dixon is the owner of Dixon Electric in Huntington.
Davis says he recalls that in his younger years he took music lessons in the building
when Kenney's was located there and said, "When I first came to TTA,
we bought uniforms from Ronk's."
Davis and Dixon have signed a lease for the Cabell County Family Court
to locate on the second and third floors of the building.
-----------------------------------------------------------
Note: This Article and picture appeared in the Herald-Dispatch Newspaper on Nov. 14, 2016
-----------------------------------------------------------
[ Back ]