Cavendish-Cyrus Hardware
------------------------------------------------------------------------------------------------------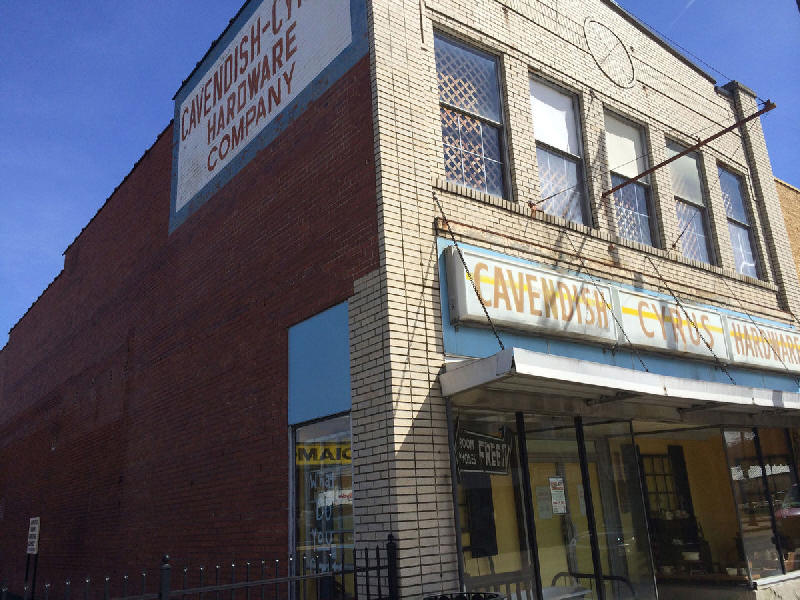 Cavendish-Cyrus Hardware was a long time fixture on West 14th. Street.
------------------------------------------------------------------------------------------------------
HUNTINGTON -- Hard work and long hours began for Evan M. Cyrus at the age of 11 when the
Cavendish Brothers employed him to work at their Central City store after school and on Saturdays.
Young Cyrus dreamed of going to college but his widowed mother was ill and needed him, so he accepted an
offer by the Cavendishs and on Feb. 1, 1928, took over a faltering hardware venture they had opened on West 14th Street.
In the store's earliest years, he was its only employee, working as acting owner, manager, clerk, stock boy and janitor.
The store hours then were 7 a.m. to 6 p.m. Monday through Friday and 7 a.m. to 9:30 p.m. on Saturdays.
Not long after taking over the store, he opened an account at the Central City Bank, which immediately
folded. Later he opened an account at the Union Bank and Trust in downtown Huntington.
It, too, closed its doors - before he could even write the first check on the account.
Over the years, Evan Cyrus built the store into a success that was a mainstay of the Central City business district.
Active in the community, he was treasurer and deacon at the Fifth Avenue Baptist Church, was on the Huntington
Floodwall Board for 28 years and served as president of the Hardware Association of the Virginias.
Sally O. Cyrus, the eldest daughter of Evan and Peggy Cyrus, grew up in the store. From junior high
through graduate school, she worked there part-time, and in 1963 gave up teaching at Marshall University
to become a full-time employee. When her father died in 1985, she and her mother continued to
operate the store. She retired in 1995, closing a business that had served the community for 67 years.
-----------------------------------------------------------
Note: This Article and picture appeared in the Herald-Dispatch Newspaper on Apr. 06 , 2015
-----------------------------------------------------------
[ Back ]