Central Glass Company
------------------------------------------------------------------------------------------------------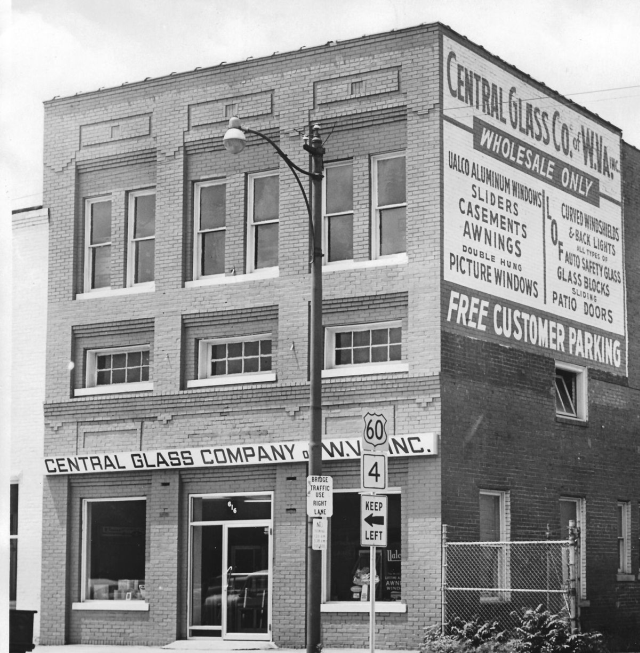 In 1960, the Central Glass Company opened a center at 616 3rd, Ave. The three story building
was later acquired by the Huntington Urban Renewal Authority and then demolished.
------------------------------------------------------------------------------------------------------
HUNTINGTON -- The Central Glass Co. of West Virginia was a longtime member of the Huntington business community.
The 1918 Huntington City Directory was the first to include the firm, listing its address as 4th Avenue and 24th Street
and identifying Carey W. Kendle as president, Michael J. Whalen as manager and Henry
The listing described the firm as follows: "Jobbers in Plate, Window, Skylight and Ornamental Glass.
Manufacturers of Plain and Beveled Mirrors and Door Lights."
The company continued in that location until July 1, 1954, when an early morning
fire shot flames 100 feet into the air as it destroyed its plant and offices.
Fire Chief John W. Gallagher described the blaze as the hottest he had ever seen.
Its heat was so intense that the department's fire-fighting equipment had to be constantly
sprayed with water to keep it cool. Three firefighters had to be taken to
Memorial Hospital suffering from heat exhaustion.
Company President Russell E. Poore estimated the loss to the destroyed building and its inventory
at $250,000. Following the fire, the company moved to 715 7th St. In 1960, it opened a
second location, described as a "service center," at 616 3rd Ave.
According to records in the West Virginia Secretary of State's office, Central Glass went out of
business in 1964.
Its building at 715 7th St. is now the home of Service Glass. The building at 616 3rd Ave.
was occupied by Justice Glass & Supply until the early 1970s when it moved to
2047 3rd Ave., where it continues in business.
Acquired by the Huntington Urban Renewal Authority, the building at 616 3rd Ave. was then demolished
-----------------------------------------------------------
Note: This Article and picture appeared in the Herald-Dispatch Newspaper on Aug. 22 , 2016
-----------------------------------------------------------
[ Back ]