Ceredo Drive-In Theater
------------------------------------------------------------------------------------------------------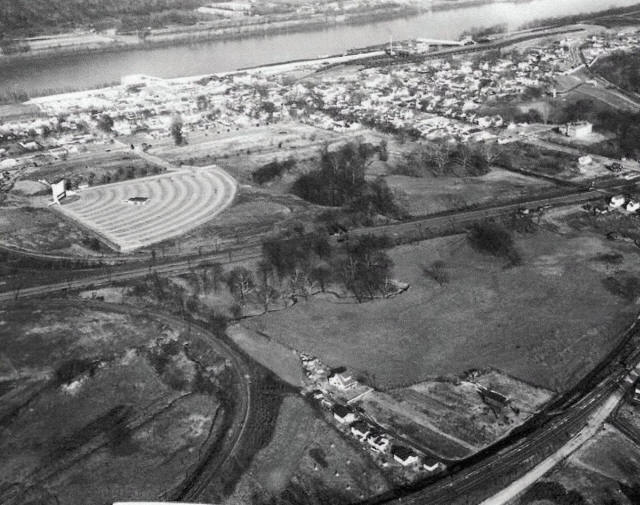 Opened in June, 1948, the Ceredo Drive-In was Huntington's
first drive-in movie theater. It closed in 1975.
------------------------------------------------------------------------------------------------------
CEREDO — Although early drive-in movie theaters opened in some locales as early
as the 1930s, drive-in theaters are best remembered as part of life in the 1950s.
For teenagers savoring the new-found freedom that came with their drivers'
licenses, the drive-in movie was the perfect destination. ("Hey, let's see
how many kids we can stuff in the trunk!") Many young families, too,
made a weekly excursion to the drive-in, youngsters in tow. You
could visit the concession stand for popcorn, soft drinks and
candy r you could bring your own snacks. Some folks
would even bring lawn chairs, turn their pickups
around and set the chairs in the
bed of the truck.
Huntington's first drive-in movie theater was the Ceredo Drive-In. Located
at U.S. 60 and West 6th Street in Ceredo, it opened June 4, 1948. The
East Drive-In followed in 1950. Both the Ceredo and the East were
operated by the Greater Huntington Theater Corp., which owned
a number of other local theaters, including the grand
Keith-Albee Theater in downtown Huntington.

The plot of land where the Ceredo Drive-In was located has an interesting
history. For decades it was nothing but a cow pasture. Then, in 1926, a
greyhound dog racing track was built on the property. The quarter-
mile-long track had a wooden grandstand that seated 10,000
people. The track remained in operation until 1935. The
facility was later used for Ceredo-Kenova football
games and other events until a 1940 storm
destroyed the grandstand.

Meanwhile, 15 acres of the property operated as the
Wayside Golf Course, long popular with area golfers.

In 1975, both the drive-in theater and the golf course became
part of Ceredo's history when they were demolished to
make way for construction of the Ceredo Plaza
shopping center.The plaza's anchor store was
a Big Bear supermarket. In 2004, the store
closed when the grocery chain
filed for bankruptcy.
-----------------------------------------------------------
Note: This Article and picture appeared in the Herald-Dispatch Newspaper on Dec. 7, 2021.
-----------------------------------------------------------
[ Back ]