Christmas 1939
------------------------------------------------------------------------------------------------------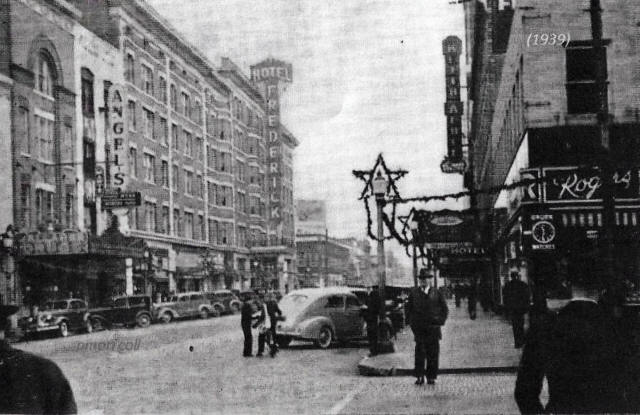 A 1939 photo of 4th Avenue at 9th Street shows the streetís Christmas
decorations and glimpses of Rogers Jewelers, the iconic Keith-Albee
sign, Gallaher Drugs, Angelís clothing store and the Hotel Frederick.
Courtesy of Patrick Morris
------------------------------------------------------------------------------------------------------
HUNTINGTON ó In 1939, the German army marched into Czechoslovakia and next invaded
Poland ó news that doubtless caused many to worry the fighting might spread, drawing in the
United States. And thatís exactly what happened two years later when Japanís
Dec 7, 1941, attack on Pearl Harbor plunged the U.S.
into the conflict we now call World War II.

Yet, as Christmas 1939 neared, many people temporarily pushed their war worries
aside so they could deal with an important task ó completing their holiday
shopping lists. In Huntington, that meant one or more trips downtown.

Back then, the cityís downtown had seven ó count Ďem, seven ó department stores.
You could start your shopping at Anderson-Newcomb, Bradshaw-Diehl, The
Huntington Store, Montgomery Ward, O.J. Morrison, J.C. Penney or
Sears, Roebuck & Co. Or perhaps you wanted to look for a nice
blouse for Mom or maybe a new shirt or tie for Dad? If so,
you had your choice of a lengthy list of downtown stores
that retailed clothing for women, men and children, too.

Many of todayís holiday shoppers will look for a great price on a big-screen TV.
In the 1930s, shoppers sought out the biggest and best radio. Star Furniture
offered RCA Victor radios, Capitol Furniture was advertising its Philco
radios, while Frankelís Union Store wanted shoppers
to know they had a full line of Majestic radios.

Today, computers are a popular Christmas gift. In the 1930s, you
could buy a Royal portable typewriter at Swan-Morgan
Office supplies or maybe a Remington Rand portable
at Fetter Furniture. Either would have been a perfect
gift for a college-bound son or daughter.

A visit to Toyland at any of several downtown stores might mean
Johnny would unwrap an official Red Ryder BB gun on
Christmas morning or little Susie would be
delighted by her new dollhouse.

Thatís the way it was in Huntington at Christmas time in 1939.
-----------------------------------------------------------
Note: This Article and picture appeared in the Herald-Dispatch Newspaper on Dec. 21, 2021.
-----------------------------------------------------------
[ Back ]