Club Pompeii
------------------------------------------------------------------------------------------------------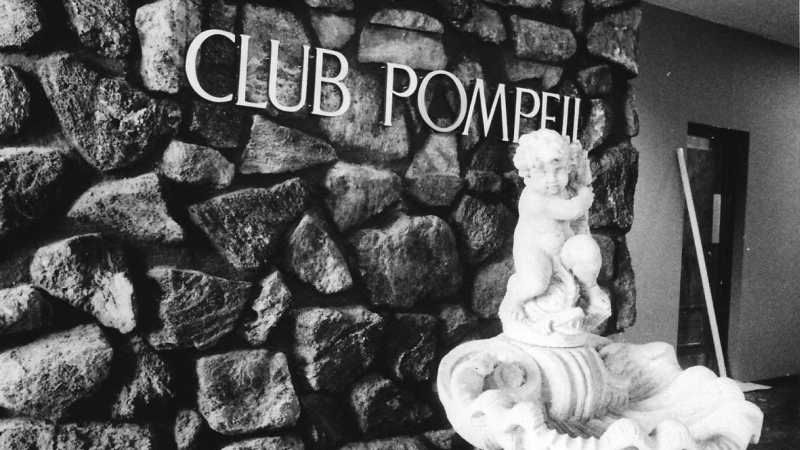 An ornamental stone wall and a marble fountain greeted guest at the entrance to the
Club Pompeii , the centerpiece of the Holiday Inn Downtown when it open 1n 1975.
------------------------------------------------------------------------------------------------------
HUNTINGTON — When the 11-story Holiday Inn Downtown opened its doors in 1975,
the centerpiece of the long-awaited hotel was the Club Pompeii. Some people described the
supper club as "elegant," while others shook their heads and called it "hopelessly tacky."
But whatever you wanted to call it, it was certainly the talk of the town.
Internationally known singing star Della Reese headlined an opening night concert Sept. 29 at the club,
designed to capture the look of the ancient Roman city which provided the club its name.
Just outside the club's entrance stood a replica Roman chariot that was used in the famed 1963 movie "Cleopatra."
Inside, the club's decor featured bubbling fountains, marble statues custom carved in Naples and colorful murals
depicting the people of Pompeii at play. The club's diners were served by toga-clad waitresses, the wine list
was a gold-clad scroll, and the champagne buckets were red-plumed Roman military helmets.
But what really had the town buzzing was the make-believe volcano that dominated the room.
Modeled on Italy's famed Mount Vesuvius, it "erupted" every 30 minutes. There would
be a thunder-like roar, a cloud of smoke and then flashing red and orange lights that
simulated the flow of lava down the volcano's sides. Huntington
had never seen anything like it, that's for sure.
Opening the new hotel was a big gamble for Harold and Dodi Frankel.
They invested everything they had — and everything they could
borrow — in it. Ultimately, it was a gamble they lost.
In the decades since, the downtown hotel has changed hands and names more than once.
But people still talk about the Club Pompeii — and that phony volcano.
-----------------------------------------------------------
Note: This Article and picture appeared in the Herald-Dispatch Newspaper on May 16 , 2016
-----------------------------------------------------------
[ Back ]