Cruise Avenue
------------------------------------------------------------------------------------------------------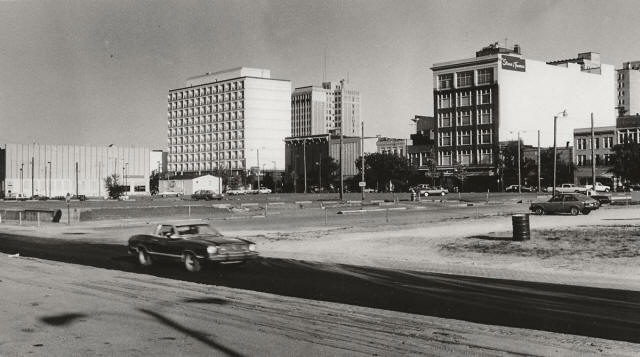 In a 1987 daytime photo, a lone auto can be seen making its way along the vacant
Superblock's newly paved Cruise Avenue. That night the roadway would have
been crowded with bumper-to-bumper traffic as teens
cruised along the two-block strip of asphalt.
------------------------------------------------------------------------------------------------------
HUNTINGTON — In the mid-1980s, downtown's 4th Avenue became a nightly
spectacle of cars, teenagers and beer, as area teens laid claim to it as the perfect
spot to go cruising. But some 4th Avenue businesses complained that
the partying teens were driving away many of their customers.
Mayor Bobby Nelson's solution to the problem was to provide the teens
with a two-lane paved strip of roadway between 8th and 10th streets
on downtown's long-vacant Superblock. Designated "Cruise
Avenue," the strip of road quickly became
a center of controversy.
The roadway's defenders saw it as a smart move to give teenage cruisers
a safe place to meet — and keep them from tying up downtown traffic.
But detractors labeled it "Bruise Avenue," pointing to frequent reports of fights,
along with rampant drinking and drug use. Irate letters to the editor insisted
the $7,000 spent to pave the roadway was a silly waste of tax dollars.
(Nelson defended the newly paved strip as "an investment in our
young people.") Councilman Bill Taylor even tried
unsuccessfully to get his fellow council
members to shut it down.
The avenue was officially open from 6 p.m., to midnight on
Friday and Saturday nights, but at least a few cruisers
from throughout the Tri-State were there every
night, regardless of the weather.
Ultimately, site preparation for the construction of
Pullman Square on the Superblock wrote an
end to the Cruise Avenue controversy.
-----------------------------------------------------------
Note: This Article and picture appeared in the Herald-Dispatch Newspaper on June 22, 2021.
-----------------------------------------------------------
[ Back ]