Davis Opera House
------------------------------------------------------------------------------------------------------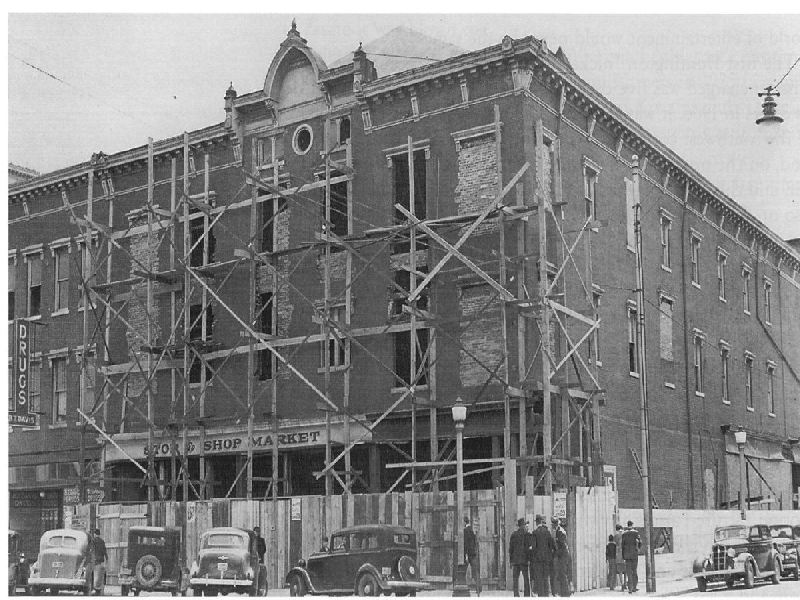 This 1930 photograph shows work in progress to convert the former theater building
for use as a Montgomery Ward store.
------------------------------------------------------------------------------------------------------
HUNTINGTON -- Despite its name, Huntington's Davis Opera House by no means limited its entertainment offerings
to opera. Over the years, it presented stage plays, concerts, vaudeville programs,
touring minstrel shows, local theatrical productions and other shows.
In 1884, druggist Benjamin T. Davis Sr. purchased a lot from Collis P. Huntington on the southeast corner
of 3rd Avenue and 8th Street. There he built a $35,000 brick building that housed his drugstore
on the first floor and the Davis Opera House on the second floor. The theater
was the first in Huntington to present live stage shows.
The Davis Drug Store fronted on 3rd Avenue, while entrance to the 800-seat theater was located on the
building's 8th Street side. Once they gained admission, theatergoers made their ways
to their seats by means of a long flight of stairs.
In 1892, the building was remodeled, the seating capacity increased to 1,200, and its name changed
to the Huntington Theater. Over the years, some of the biggest names in show business played at
the old theater, including Sarah Bernhardt, John Barrymore, Edie Foy, Sophie Tucker,
Will Rogers, Helen Hayes and others.
With the advent of motion pictures, the theater fell into disuse and was closed in 1928. In 1932,
it reopened for one final gala performance, a minstrel show starring a number
of talented local performers. The curtain then came down for the last time.
In 1939, the building was revamped to house a Montgomery Ward store. One of the oldest
in downtown Huntington, the building is still standing and over the years
has been occupied by a number of different businesses.
-----------------------------------------------------------
Note: This Article and picture appeared in the Herald-Dispatch Newspaper on Jun. 29 , 2015
-----------------------------------------------------------
[ Back ]