Dickerson Limber
------------------------------------------------------------------------------------------------------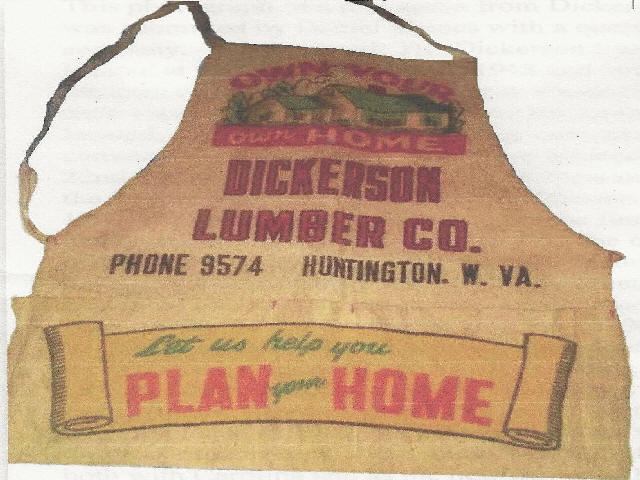 This old nail apron came from the Dickerson Lumber Co., which operated from 1918 to 1961.
------------------------------------------------------------------------------------------------------
HUNTINGTON — George James Dickerson was born at Ravens Eye in
Fayette County in 1878. As a young man, he worked as a surveyor.
In 1902 he became a stenographer in the office of the O.L. Packard
Machinery Co. in Chicago. He followed that with a stint as a
telegrapher with the Baltimore & Ohio Railroad, and
then worked as an assistant cashier in the
Bank of Mount Hope.
In 1905, Dickerson came to Huntington and worked at the
Carolina Pine Lumber Co. for 13 years.
In 1918, he left Carolina Lumber to organize his own firm,
the Dickerson Lumber Co., to sell all kinds of
lumber and building supplies.
He built his company into one of the largest and most
successful in the state's retail lumber trade.
Located at 520 22nd St., it was a busy part of the
Huntington business community for
more than 40 years.
In 1961, Dickerson announced his retirement and sold his business
to a newly organized company, DANCO Inc., described
by a spokesman as a "lumber discount house."
According to a news report in the Herald-Dispatch, "The $90,000
sale included $67,531.65 for the real estate and the remainder
for inventory, equipment and business good will."
Dickerson was a member of the Huntington Chamber of Commerce,
the Guyan Golf and Country Club and Huntington Lodge 313,
B.P. O. Elks. He died in 1964 and is interred
in Woodmere Memorial Park.
In 1972, DANCO expanded, moving to a new location at
2240 5th Ave. In 1978, it was hit by a three-alarm fire.
William Bart Andrews, the company's president and
general manager, said the blaze caused more than
$500,000 in damages to the building and the
materials stored in it. After repairs were
made, the firm quickly reopened.
According to records in the West Virginia Secretary of
State's office, DANCO went out of business in 1993.
-----------------------------------------------------------
Note: This Article and picture appeared in the Herald-Dispatch Newspaper on Aug. 25, 2020.
-----------------------------------------------------------
[ Back ]