Dickinson Furniture
------------------------------------------------------------------------------------------------------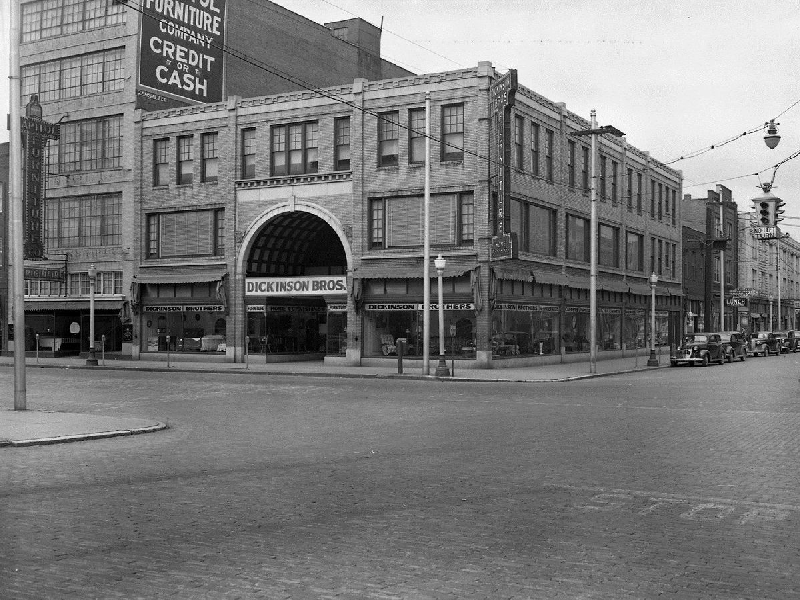 Founded in 1996, Dickinson Brothers Furniture moved into a building on the northwest corner
of 4th. Avenue and 8th. Street. In 1932 and over years became a downtown Huntington Inoc.
The family owned business closed in 2008.
------------------------------------------------------------------------------------------------------
HUNTINGTON -- Dickinson Furniture was founded by P. E. Dickinson, who came to Huntington
in the late 1800s from Louisa County, Virginia, to work in the Chesapeake & Ohio Railway
shops. In 1906, while still working for the C&O, he and his brother
decided to go into the furniture business on 20th Street.
The brothers moved their store several times before purchasing a building
on the northwest corner of 4th Avenue and 8th Street in 1932.
The building was originally built to be Field's Fine Fashions, an upscale dress shop.
Because of the poor Depression-era economic conditions, the building was never
occupied until the Dickinson brothers purchased it. The store would
weather the Depression and the 1937 flood and would go
on to become a downtown Huntington icon.
Three generations of the Dickinson family operated their well-known furniture store for 102
years before announcing its closure in 2008. Company President Margaret Williams
told The Herald-Dispatch: "Several of us are ready to retire, and there's nobody
in the family to take over." An ailing local economy also
played a role in the decision, she said.
Local developers Jim Weiler and Phil Nelson purchased the former furniture store in
2009 and updated it for use as an office building, naming it Capitol Centre. The
developers said the $2.5 million project involved gutting the building's
interior, and adding a new elevator and sprinkler system,
new wiring, HVAC, plumbing, roofing and windows.
Today, Jenkins Fenstermaker, a law firm with 50 employees and an 90-year
history in Huntington, occupies the top two floors of the three-story
building. The Huntington branch of the Raymond James
investment firm is a first-floor tenant.
-----------------------------------------------------------
Note: This Article and picture appeared in the Herald-Dispatch Newspaper on Feb. 28, 2018.
-----------------------------------------------------------
[ Back ]