Dollar Day Sale
------------------------------------------------------------------------------------------------------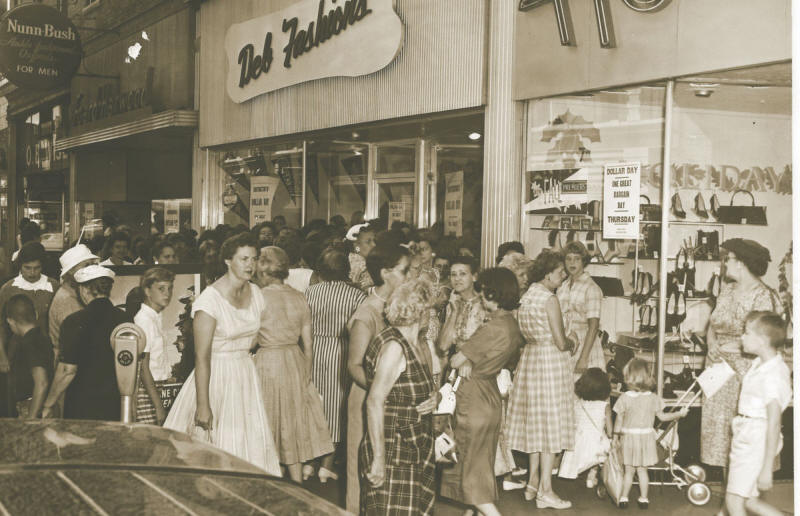 Early on August morning in 1959, eager shoppers crowd the sidewalk in the 900 block
of 4th. Avenue, for stores to open their doors for the day's big Dollar Day sale.
------------------------------------------------------------------------------------------------------
HUNTINGTON -- On Leap Day in 1916 - Thursday, Feb. 29 - a major topic of local conversation
was the big sale the city's downtown retailers were staging that day. The newspapers had
been reporting on the coming sale for weeks, and for days the papers had been
filled with ads by merchants, large and small, promoting the event.
"BIGGEST SHOPPING DAY IN HISTORY OF THE CITY FORECAST" read the front-page
headline in that morning's edition of The Herald-Dispatch. Inside, the paper was stuffed
with ads for everything from 80-cent bedspreads to $1 rocking chairs and men's neckties
three for $1. One enterprising grocer offered five pounds of coffee for $1.
The Huntington Businessman's Association and the Huntington Chamber of Commerce joined
forces to sponsor the big sale, hoping to attract shoppers from throughout the Tri-State.
The strategy worked, with stores all but overwhelmed by bargain-hunting shoppers.
Chamber President C. P. Snow toured several stores that morning and told reporters
he felt assured that "the day would be annual celebration of much weight hereafter."
Snow's optimistic prediction was right on target. Over the years, Dollar Day would
become a Huntington tradition, with its twice-a-year sales - each February and
August - attracting crowds of shoppers. The World War II years temporarily
curtailed the sales, but with the war's end the sales resumed and became as
successful as ever, with eager shoppers lining up on Dollar Day
morning, waiting on the downtown store doors to open.
The 1970s saw more than 60 businesses participating in Dollar Day sales.
But the 1980 opening of the Huntington Mall ultimately caused many
downtown stores to close their doors, and Dollar Day, though it
continued, became only a faint echo of the
mammoth events of yesteryear.
-----------------------------------------------------------
Note: This Article and picture appeared in the Herald-Dispatch Newspaper on July 31, 2017.
-----------------------------------------------------------
[ Back ]