Downtown Penney's
------------------------------------------------------------------------------------------------------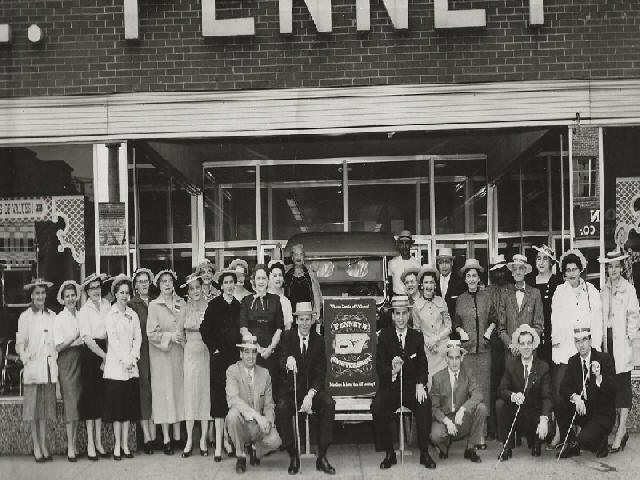 When Penney's celebrated its 57th anniversary, it gathered its Huntington employees
outside its 3rd Avenue store for a group photo. Manager Tom Campbell can be
seen seated to the immediate left of the sign and Assistant
Manager Bill Kenney to the immediate right of it.
------------------------------------------------------------------------------------------------------
HUNTINGTON — When the Huntington Mall opened in 1981, one of its anchor
stores was the J.C. Penney Co., which moved to the mall from downtown
at 827-29 3rd Ave., where it had operated since the early 1930s.
Penney's was founded by James Cash Penney (1875-1971). A Missouri native,
Penney started out working for a small chain of dry goods stores called
Golden Rule stores. Ultimately, he became a partner in the chain and
opened a store at Kemmerer, Wyoming, in 1902, the
birth of what would become a retail giant.
Abandoning the Golden Rule name, Penney put his own name on the 34
stores he soon opened in the Rocky Mountain states. By 1917,
the company operated 175 stores in 22 states. By 1941,
it had grown to 1,600 stores in all 48 states.
Charles Amos, a Logan County native who had a long career with Penney's,
started out at its downtown Huntington store and says he has great memories
of those early years. When Amos graduated from Marshall College (now
University), Tom Campbell, manager of the Huntington store, chose him
for management training with the chain. After leaving the Huntington store,
he went on to manage Penney's stores in three Ohio towns — Springfield,
Steubenville and Wapakoneta — for a total of 28 years. When he retired,
he and his late wife, Chloeette, returned to Huntington. Today he divides
his time between the Woodlands Retirement Community in
Huntington and his winter home in Largo, Florida.
On Oct, 21, 1950, an explosion blew out the rear wall of the 3rd Avenue Penney's
store and enveloped the building in flames. Sparks from the fire blew across the
alley and ignited the roof of the Tipton Theater. The flaming roof fell into
the theater, leaving it a charred ruin. The damaged Penney's building
was repaired, and the store reopened. The theater was not rebuilt.
Today, the former Penney's building is still standing. It now houses Taste of
Asia, a Japanese steakhouse and grill, on the ground floor. Upstairs
are the offices of Steptoe & Johnson, a national law firm.
-----------------------------------------------------------
Note: This Article and picture appeared in the Herald-Dispatch Newspaper on Jan. 7, 2020
-----------------------------------------------------------
[ Back ]