Early Movie Houses
------------------------------------------------------------------------------------------------------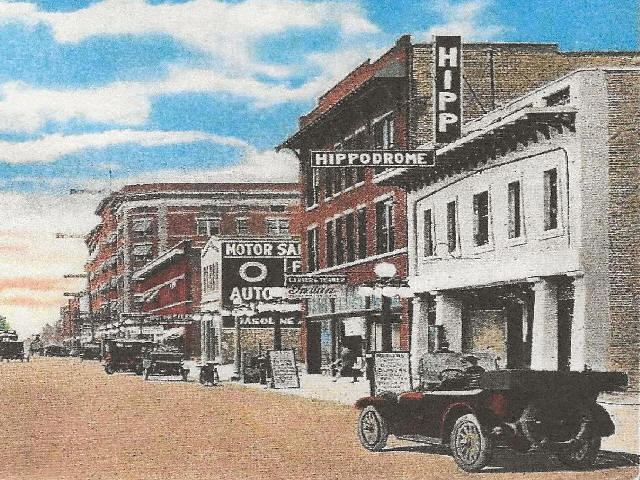 In the 1920s, the Hippodrome was one of several Huntington movie houses on 4th Avenue.
That's the Hotel Fredrick visible in the background of this vintage postcard.
------------------------------------------------------------------------------------------------------
HUNTINGTON — In the early days of the movie industry, many small and simple
theaters were set up, usually in converted storefronts. They typically charged
five cents for admission, and thus became known as nickelodeons.
According to Huntington historian George S. Wallace, the city's
first movie house was known as the Dreamland. In his "Cabell
County Annals and Families," Wallace wrote that it opened
in 1905 in a building located on the southwest corner
of 4th Avenue and 9th Street. That would place
it where the Hotel Farr would later be built.
"About the same time," Wallace wrote, "a second house known
as the Wonderland on 3rd Avenue followed in 1906."
Other early movie houses cited by Wallace include "the White City
on 9th Street, the Fairyland on 3rd Avenue below 9th Street,
(and) the Gem in 1908 on 3rd Avenue between 9th and
10th Streets. In 1910, the old skating rink on 4th
Avenue between 8th and 9th Streets was taken
over by Floyd S. Chapman, converted into
a movie house and named the Lyric."
By 1916, the Huntington City Directory listed nine movie houses,
adding two directly across from each other in the 1000 block
of 4th Avenue — the Hippodrome at 1048 and the Orpheum
at 1021, next door to the Huntington Elks Lodge.
The Princess, at 1617 8th Ave., was among those listed in the
1916 City Directory. By the time the 1921 Directory was
published its named had been changed to the Olden.
By 1926, its name had been changed again,
this time to the Lincoln.
The 1926 Directory also reflected other changes. The Strand had
opened at 1037 4th Ave. It later would become the Roxy. The
Shriver was welcoming movie fans at 312 Bridge St. in
Guyandotte. And the Hippodrome had been renamed
the State. In its early years, the State showed first-
run movies but by the 1950s it was screening a
steady stream of cowboy double features.
-----------------------------------------------------------
Note: This Article and picture appeared in the Herald-Dispatch Newspaper on Sep. 11, 2020
-----------------------------------------------------------
[ Back ]