East Drive-In Theater
------------------------------------------------------------------------------------------------------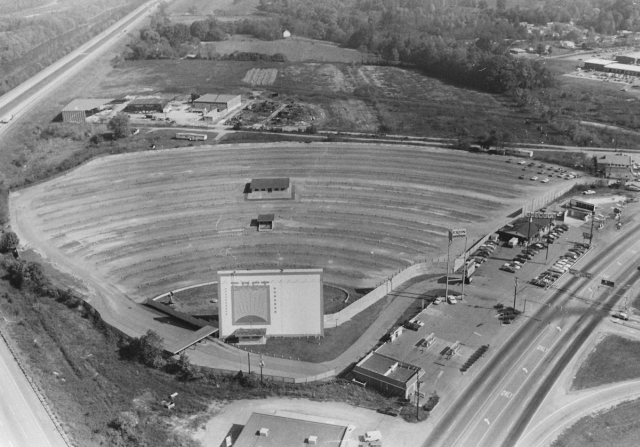 The East Drive-in offered firm fans their choice of roughly 1,000 parking slots.
------------------------------------------------------------------------------------------------------
HUNTINGTON -- Although early drive-in movie theaters opened in some locales as early
as the 1930s, the drive-in is best remembered as part of life in the 1950s.
For teenagers savoring the new-found freedom that came with their drivers' licenses,
the drive-in movie was the perfect weekend destination. ("Hey, let's see how many
kids we can stuff in the trunk!") Many young families, too, made a
weekly excursion to the drive-in, youngsters in tow.
You could visit the concession stand for popcorn, soft drinks or candy or you could
bring you own snacks. Some folks would even bring lawn chairs, turn their
pickups around and set the chairs in the bed of their truck.
The East Drive-In, located at 5160 U.S. 60 East, opened in the early 1950s. Mammoth in size,
it offered film fans their choice of roughly 1,000 parking spots. In the drive-in's early
years, the movie's sound came from a bulky speaker you took off a pole
and placed in your window. Later, the speakers were replaced
with a new system that enabled you to tune in the movie's
sound on your car radio.
The drive-in business declined sharply in the 1980s, as people opted
to enjoy their movies at home or in an air-conditioned theater.
The Greater Huntington Theater Corp., which operated the East, had a lease on the land
that ran through 2000. But the lease also stipulated that it could be bought
out if someone came up with a better offer. Derek Hyman, the company
president, said the nearby Interstate-64 interchange made the site a
perfect spot for a retailer, and that he fully expected one would
make a bid for the land. And that's exactly what happened
in 1993 when Walmart successfully bought out the lease.
A wrecking crew made quick work of dismantling the theater, and soon another
Walmart store was going up. (Today, the Walmart itself is gone,
replaced by a medical mall developed by the
Huntington Internal Medicine Group.)
-----------------------------------------------------------
Note: This Article and picture appeared in the Herald-Dispatch Newspaper on July 28, 2014.
-----------------------------------------------------------
[ Back ]