East Hills Mall
------------------------------------------------------------------------------------------------------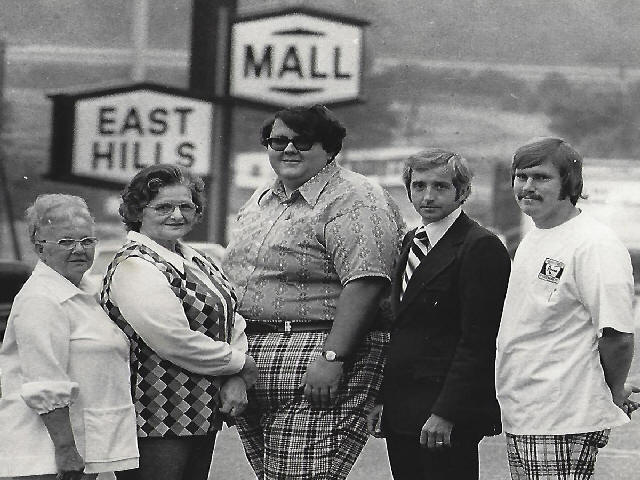 Everyone was all smiles in this 1974 group shot of the managers and owner of shops
at the former East Hills Mall. Posing for the camera were, from left, Mrs. Beatrice
DeLancy, owner of DeLancy's Beauty Salon; Mrs. Dorthy B. Neal, part-owner
of Neal's Arts and Crafts; Chris Sowards, manager of Almar Books and
Records; Bob Godfrey, president of Tri-State Jewelers; and Cort
Andrews, manager of the Revco Discount Drug Center.
------------------------------------------------------------------------------------------------------
HUNTINGTON — The East Hills Mall, which included a small indoor concourse,
opened in 1973 along U.S. Route 60 east of Huntington.
With a prime location just off Interstate 64's 29th Street interchange,
the mall was expected to draw a healthy flow of customers.
But the shoppers never came, and business after
business that moved into the mall soon closed
its doors and moved out.
At its peak, the mall was home to more than a dozen businesses, including a beauty
salon, an arts and crafts shop, a book and record store, a jeweler, a drug store,
a financial services firm, a shoe store, a restaurant, a branch bank, Fitness
World, the Huntington School of Beauty Culture, an A&P
supermarket and a Hill's Department Store.
In the 1980s, a new owner dramatically slashed the rents it charged the
mall's tenants. That helped some, but much of the 111,000-
square-foot complex remained stubbornly vacant.
In 2008, Huntington developer Bob Childers of Childers Properties
acquired the mostly vacant complex and invested $25
million to turn it into a modern office park, the
East Hills Professional Center.
One of the early tenants at the East Hills Mall was a branch of
Huntington Federal Savings Bank. In 2008, as the former
mall was being transformed into an office park,
Huntington Federal erected a new
building for the branch.
Strikingly modern in design, the building's curving roof structure ties
together the branch's interior and its drive-through lanes. The
building's unusual design won Edward Tucker Architects
of Huntington a merit award from the West Virginia
Chapter of the American Institute of Architects.
-----------------------------------------------------------
Note: This Article and picture appeared in the Herald-Dispatch Newspaper on July 8, 2019.
-----------------------------------------------------------
[ Back ]