Eastern Air Lines
------------------------------------------------------------------------------------------------------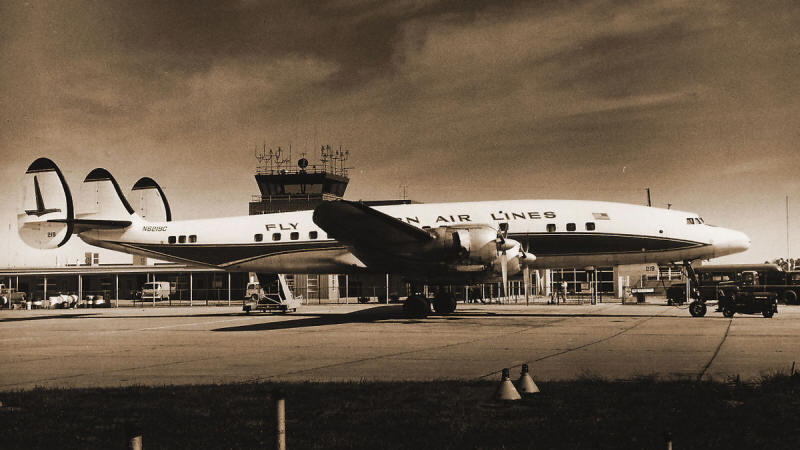 In 1961, this giant Eastern Air Lines Super Constellation was the first four-engine
aircraft to serve the Tri-State Airport.
------------------------------------------------------------------------------------------------------
HUNTINGTON -- When Tri-State Airport was dedicated Nov. 2, 1952, it initially was served by only one airline,
Piedmont. Eastern Air Lines began serving Tri-State in April 1953 and Allegheny Airlines two months later.
Of the three airlines then serving Tri-State, Eastern was the largest and best known. It was founded in 1926
and in its early years was headed by World War I flying ace Eddie Rickenbacker.
In the 1950s and '60s, it operated eight daily flights in and out of Tri-State.
On Oct. 29, 1961, Eastern began serving Tri-State with the giant twin-tailed Lockheed Super Constellation airliner
(shown in the accompanying photograph). The debut of the distinctive looking airliner had been well publicized and
an estimated 1,500 onlookers were on hand to see the first flight arrive. The 66-passenger Super Constellation
was the first four-engine aircraft to serve Tri-State.
On April 27, 1969, Eastern made local aviation history again when it began
the first scheduled jet service at Tri-State, utilizing Boeing 727 aircraft.
But the years ahead would prove to be turbulent for Eastern, which began losing money as it faced stiff competition
from no-frill airlines such as People Express. Ultimately Eastern claimed that passenger traffic at Tri-State
and Charleston's Yeager Airport was no longer adequate for it to break even, much less turn a profit.
In April of 1971, Eastern asked the Civil Aeronautics Board for permission to turn its Huntington and Charleston
service over to Piedmont. The CAB spun its wheels for two years but finally granted Eastern's request.
On Jan. 8, 1973, the last Eastern flight took off at Tri-State.
The airline's financial troubles only got worse and a bankrupt Eastern flew for the last time at midnight Jan. 19, 1991.
-----------------------------------------------------------
Note: This Article and picture appeared in the Herald-Dispatch Newspaper on Feb.. 29 , 2016
-----------------------------------------------------------
[ Back ]