Ely Ensign's House
------------------------------------------------------------------------------------------------------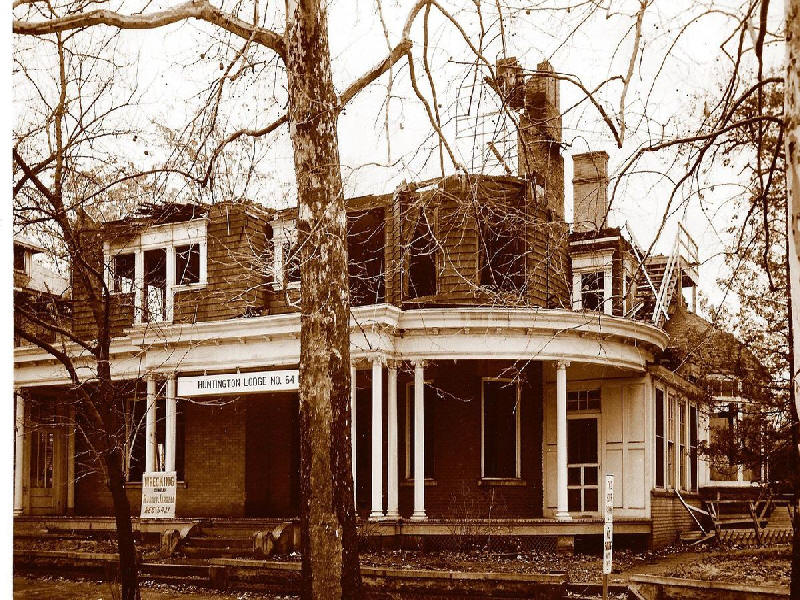 In 1961, long time local demolition contractor Rabbit Jarrell razed the Ely Ensign house.
------------------------------------------------------------------------------------------------------
HUNTINGTON -- In Huntington's early years, many of the community's finest homes were built along 3rd
Avenue from the Guyandotte bridge westward to 12th Street. Most are gone now.
Some that still survive have been cut up into apartments.
One of yesteryear's grand houses was built by Ely Ensign, founder of the Ensign Manufacturing
(today's ACF Industries) in 1893. The house, erected at 1330 3rd Ave., is thought to have been the first in Huntington
to have electric lights. In his "Cabell County Annals and Families," George S. Wallace said the house was built at a
time when an economic downturn had forced a temporary shutdown of the rail car plant. Ensign undertook construction
of the house. Wallace wrote, "in order to give his shop employees work."
After Ensign's death in 1902, the 3rd Avenue house became home to
William F. Hite and his wife Anna, who was Ely Ensign's daughter.
On Sept. 8, 1929, the Sunday Herald-Advertiser reported that what it called the "Hite Mansion" had been purchased
by Dr. Arthur S. Jones who planned to use it as a 50-bed orthopedic hospital. Dr. Jones moved
forward with his plan and operated a hospital in the house for many years.
In 1960, Huntington Lodge 64 of the Independent Order of Odd Fellows bought the house. The Odd Fellows
had been meeting on the fourth floor of a building they owned on the southeast corner of 3rd Avenue and 11th Street.
(The first, second and third floors of the building were leased to, and occupied by, the Bradshaw-Diehl Department Store.)
In need of a new place to meet, the Odd Fellows decided to demolish the house to make way for construction
of a new lodge hall. Long-time local demolition contractor Rabbit Jarrell was hired, and he and his crew set to work.
Jarrell noted that his father had helped build the house.
Ultimately, the Odd Fellows built their new lodge hall elsewhere.
Today, the former site of Ely Ensign's home is a parking lot.
-----------------------------------------------------------
Note: This Article and picture appeared in the Herald-Dispatch Newspaper on May. 25 , 2015
-----------------------------------------------------------
[ Back ]