Ensign Electric
------------------------------------------------------------------------------------------------------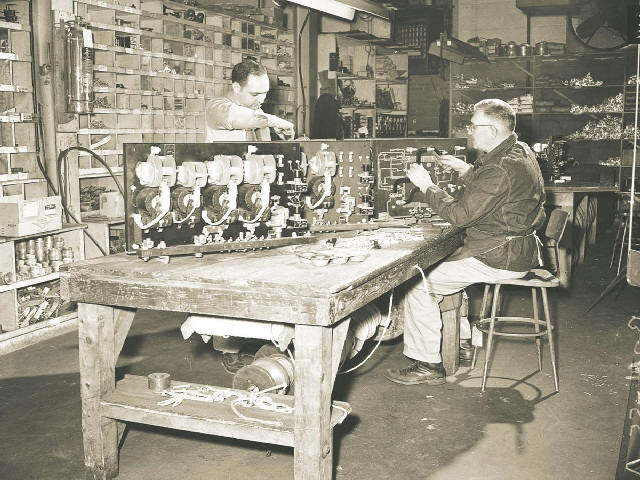 Founded in 1938 by Darwin Ensign and Charles C. Armstrong,
Ensign Electric and Manufacturing, at 914 Adams Ave.,
closed in 1983
------------------------------------------------------------------------------------------------------
HUNTINGTON — Born in 1897, Darwin Ensign was a lifelong resident of Huntington
and a veteran of World War I. He attended West Virginia University and was
a graduate of the Bliss Electrical School in Silver Spring, Maryland.
In 1938, he and Charles C. Armstrong founded Ensign Electric and Manufacturing
Co., which established a plant at 914 Adams Ave. Armstrong also founded
another Huntington manufacturer, Armstrong Products. Ensign Electric
later opened a second plant at the Kyle Industrial
Park on Ohio River Road.
Ensign built AC and DC electrical controls, transformers, rectifiers and connectors,
primarily for the mining industry. In 1968, the long-time Huntington
business was sold to Harvey Hubble Inc., a national and
international electronics company.
By 1975, the company's employment had grown to about 400 workers, and
the Adams Avenue plant had grown to an 11-building complex
along the north side of the avenue between
9th and 11th streets west.
In June of 1977, Ensign conducted its first-ever open house and picnic for
its employees. Addressing the gathering, Plant Manager Ken Williamson
said: "The future looks good for Ensign Electric and its employees."
A bit more than two years later, in September 1979, Ensign laid off
a third of its workforce. In March 1983, Hubbell ordered
the Adams Avenue plant closed.
Hubbell donated the closed plant buildings to the City of Huntington.
Later, it was conveyed by the City to Guyan Machinery and is
now owned by C-4 Enterprises, LLC.
Having long since retired from the company he founded, Darwin Ensign died in 1985.
-----------------------------------------------------------
Note: This Article and picture appeared in the Herald-Dispatch Newspaper on March. 18, 2019.
-----------------------------------------------------------
[ Back ]