Ensign Manufacturing
------------------------------------------------------------------------------------------------------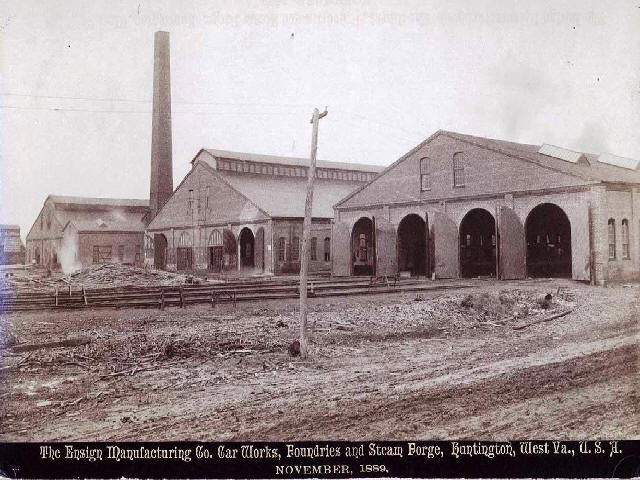 This early view of the Ensign Manufacturing Co., The predecessor
of Huntington ACF plant, is dated 1889.
------------------------------------------------------------------------------------------------------
HUNTINGTON — In Huntington's earliest years, the young town's biggest employer was,
logically enough, the Chesapeake & Ohio Railway Co. After all, it was the C&O
that gave birth to the city when founder Collis P. Huntington picked
out a mostly vacant tract of Ohio River bottomland
to be the railroad's eastern terminus.
In those early decades, the city's second biggest employer was the Ensign
Manufacturing Co. Connecticut businessman Ely Ensign came to
Huntington and established Ensign Manufacturing in 1872,
just a year after rail tycoon Huntington established
the town that carries his name.
Initially the Ensign plant produced only railroad wheels, but in 1881 it began
building wooden rail cars. Within a few years, it became one of the largest
car building facilities in the United States. That success may have been due
at least in part to the efforts of Huntington who, as a major investor in
the C&O, the Central Pacific, the Southern Pacific and other
railroads, was in an ideal position to "encourage"
those lines to buy cars from the Ensign plant.
By 1889, the Huntington plant was building more than 4,000 cars a year,
including boxcars, stock cars, gondolas, coal mine cars and even
snowplows. In 1899, Ensign was one of 13 independent car
builders that consolidated into the American Car &
Foundry Co. (ACF). Ely Ensign remained as
general manager of the Huntington plant
until his death in 1902.
Even as other industries took root in Huntington, the ACF plant continued
to play a key role in the city's economy. John Ensign followed in his
father's footsteps and was manager at ACF until his death in 1932.
Although always best known for its rail cars, ACF expanded
into other fields and, as a result in 1954, changed its name
from American Car & Foundry to ACF Industries Inc.
Production at Huntington's ACF plant came to a halt a number of
years ago. Now, the Huntington Municipal Development
Authority has purchased the 42-acre plant property as
part of a long-range plan to redevelop the
city's Highlawn neighborhood.
-----------------------------------------------------------
Note: This Article and picture appeared in the Herald-Dispatch Newspaper on Mar. 24, 2020.
-----------------------------------------------------------
[ Back ]