Falls City
------------------------------------------------------------------------------------------------------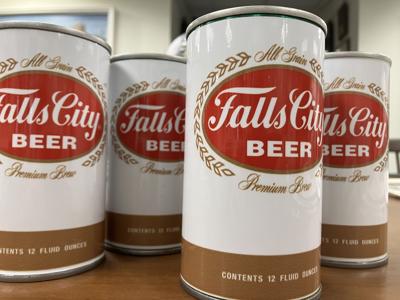 Special Collections at the Marshall University Library has a
number of props used in filming the "We Are Marshall"
movie, including these Falls City beer cans.
James E. Casto | For The Herald-Dispatch
------------------------------------------------------------------------------------------------------
Falls City was long a popular brand with beer drinkers in the Huntington area.
A case of it can even be seen in a scene from "We Are Marshall,"
the movie about the 1970 crash that claimed the lives
of the Marshal University football team and everyone
else aboard the ill-fated jetliner.
The Falls City Brewing Co. was organized in Louisville, Kentucky,
in 1905, and the company quickly prospered. Ultimately
it became Louisville's biggest selling beer.
When most breweries shut their doors at the onset of Prohibition,
Falls City was able to not only remain open but actually earn a
modest profit by selling ice, soft drinks and near beer
(a malt beverage with little or no alcohol).
After the company was able to resume producing beer in 1933,
Falls City was widely distributed in the Ohio Valley,
welcomed by customers in Kentucky, Indiana,
Tennessee and West Virginia.
In the Huntington area, Falls City beer was distributed
by the former North Pole Distributing Co.
Throughout the 1970s, Falls City's sales steadily declined and in 1978
the company posted its first-ever financial loss. The Falls City board
of directors elected to cease production rather than fight the
onslaught of the big national brands (Budweiser, Miller,
etc.,) that were gaining momentum in Falls City's core
markets. The company sold other breweries the
rights to brew and sell Falls City, yet before
long the beer was no longer produced.
But the Falls City story doesn't stop there. With craft
beers surging in popularity, the brand has been
revived as a small-batch specialty beer,
now available in and around Louisville.
-----------------------------------------------------------
Note: This Article and picture appeared in the Herald-Dispatch Newspaper on July 25, 2023.
-----------------------------------------------------------
[ Back ]