Jefferson Elementary
------------------------------------------------------------------------------------------------------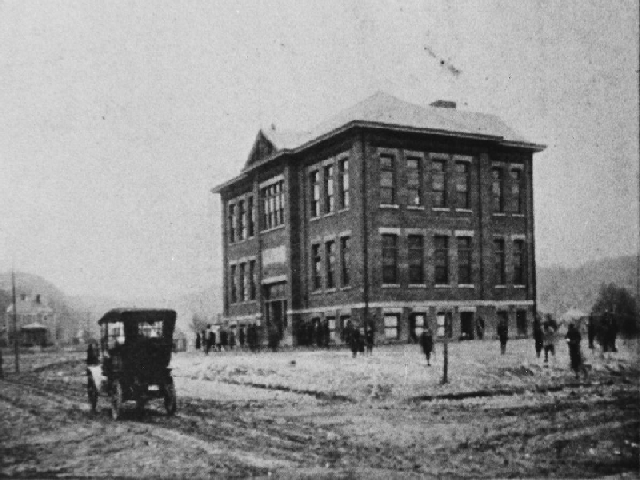 This photo of Jefferson Elementary School at Jefferson Avenue and West 19th. Street was
taken shortly after the school opened in 1911. Over the years, the school was extensively
remodeled and enlarged. It was closed at the end of the 1967-97 school year.
------------------------------------------------------------------------------------------------------
HUNTINGTON -- Jefferson Elementary School at Jefferson Avenue and 19th Street W.
opened in 1911 and was named, logically enough, for the avenue where it was built.
Huntington was rapidly growing at the turn of the century, and the school system was challenged
to keep up with that growth. Jefferson was one of a half dozen schools the city built in a five-year
span. Lincoln Elementary and Miller Elementary opened in 1912, the Johnson School in
1915, and the Gallaher and Guyandotte Schools in 1916. The city's new
high school on 8th Street also welcomed its first students in 1916.
Jefferson was extensively remodeled and enlarged over its 86-year
history. School system records show additions were made
to the school in 1939, 1949, 1954 and 1981.
Enrollment figures for Jefferson's early years are unavailable, but statistics
beginning in the 1950s show a steady decline as the neighborhood around
the school changed. In 1957-58 Jefferson had 315 students. By 1982-83,
its enrollment had declined to 181 students. In 1995-96, it had 130.
Early in 1996, the Cabell County Board of Education proposed closing the old school.
At a public hearing, school officials cited frequent plumbing and electrical problems
at the school and said its heating system and roof needed repairs estimated to cost
more than $1 million. A number of parents who spoke at the hearing said they
would like to see the school closed so their children could attend
a proposed new school. No parents spoke against the closing.
Jefferson Elementary was closed at the end of the 1996-97 school year.
Today the former school building is home to the Celebration Church.
-----------------------------------------------------------
Note: This Article and picture appeared in the Herald-Dispatch Newspaper on Sep. 25, 2017.
-----------------------------------------------------------
[ Back ]