Fire Alarm Station
------------------------------------------------------------------------------------------------------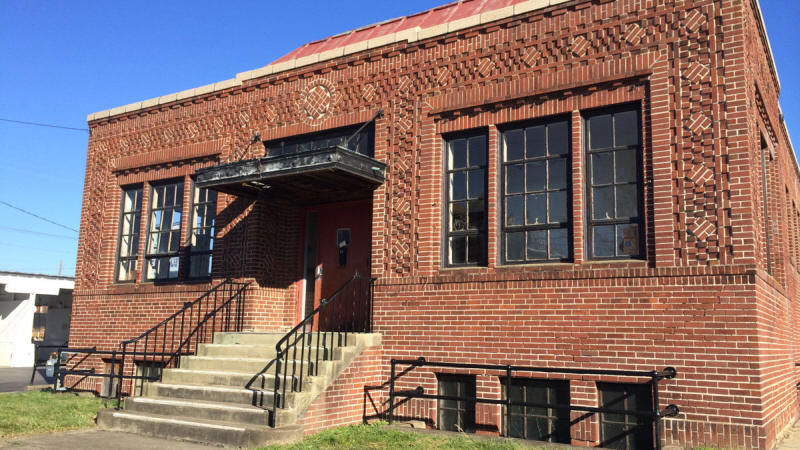 The Huntington Fire Alarm Station, built in 1928, remained in service until 1986
------------------------------------------------------------------------------------------------------
HUNTINGTON -- Before the introduction of the 911 emergency phone number, fire departments utilized
dedicated telegraph lines connected to alarm boxes located on busy street corners.
When people saw a fire, they could pull a lever on one of the boxes. Checking the number on the box that had triggered
the alarm enabled firefighters to know the fire's location, so they could hurry to it. Until they were equipped with radios,
firefighters on the scene of a blaze also would use the boxes if they needed to summon additional manpower or equipment.
According to a history posted on the Huntington Fire Department's website, the city installed four alarm boxes in the
downtown area in 1881. More and more boxes were added over the years, and in 1928 the city erected
a small red brick building at 816 9th St. to house the alarm system.
The Huntington system was known as the Gamewell System, named for the company that sold and installed it.
Organized in 1879, the Gamewell Fire Alarm Telegraph Co. had installed alarm boxes in 250 cities by 1886 and 500
cities by 1890. There were other competing companies, but by 1910 Gamewell was said to have 95 percent of the alarm market.
Huntington's Fire Alarm Station remained in service until 1986 when it was deactivated. At the same time,
the city disconnected the more than 250 familiar red boxes that were located on street corners throughout town.
Today, the old fire alarm boxes discarded by Huntington and other cities are popular items with antique collectors.
Later a group of retired firefighters leased the former alarm station for use as a fire museum.
But after a few years the museum was forced to close its doors.
"There just weren't enough of them (the retired firefighters) to keep it going," Mayor Kim Wolfe said in 2012,
when the city put the old building up for auction. The local developer who submitted the winning bid of $9,700
said he wasn't sure what he would do with the building.
Today, it's still standing but remains vacant and unused.
-----------------------------------------------------------
Note: This Article and picture appeared in the Herald-Dispatch Newspaper on Apr. 20 , 2015
-----------------------------------------------------------
[ Back ]