First Douglass School
------------------------------------------------------------------------------------------------------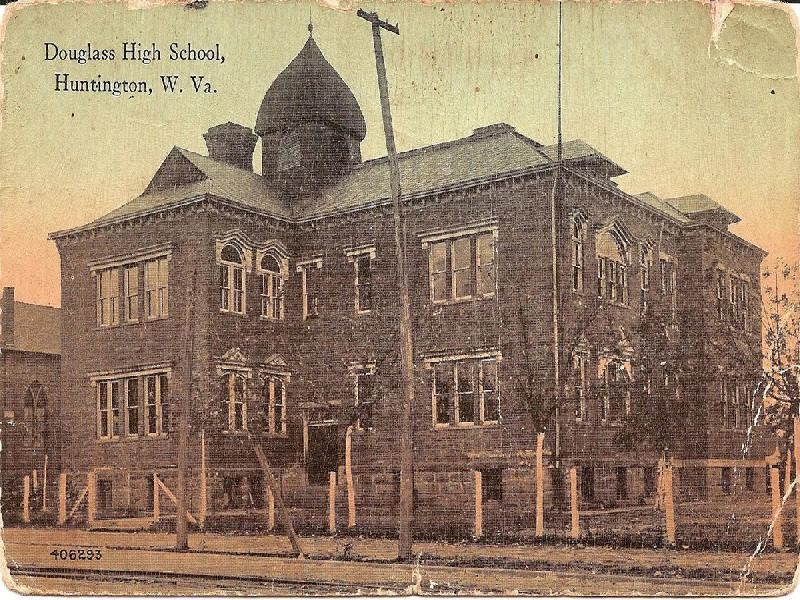 This picture identifies the building as Douglass High School, but until the 1920's
it housed students in all grades, 1 through 12. Later the building became
Barnett Elementary.
------------------------------------------------------------------------------------------------------
HUNTINGTON -- In 1891, Huntington built its first school for black youngsters, a six-room brick structure
on the corner of 8th Avenue and 16th Street (now Hal Greer Boulevard). The school building, which cost $15,000
to erect, was named for abolitionist leader Frederick Douglass. It housed all grades, 1 through 12,
with the first class graduating in 1893. The original faculty consisted of seven teachers.
Among the Douglass School's early graduates was Carter G. Woodson, who became the school's principal
four years later. Woodson was born in Virginia to parents who had been slaves. When the family moved to Huntington,
he enrolled at the Douglass School, graduating in 1896. His stay as the school's principal was brief. He went on to earn
a Ph.D. degree from Harvard University and an illustrious career as an author and educator. Widely acknowledged as
the "father of Black History Month," he lived much of his life in Washington, D.C., where he died in 1950.
In 1905, two rooms were added to the Douglass School, and in 1913 a two-story 10-room addition was constructed.
The $40,000 addition contained a laboratory for physics and chemistry, a domestic science room, a manual
training room, a sewing room, a commercial room, a library, an assembly room and an office.
At this point, the total enrollment in all grades was 465 students.
By 1919, the school's enrollment in its high school classes had grown to 120 students,
and plans were made to construct a new building to house the junior and senior classes.
When the new building was built (1924-26) at 10th Avenue and Bruce Street, the Douglass name was
transferred to it and the first Douglass building was renamed Barnett Elementary, honoring Dr. C.C.
Barnett, a well-known local black leader. Long vacant and disused, Barnett Elementary was demolished in 1994.
Today, an auto parts store stands on the site.
The vintage-1920s Douglass High School building on 10th Avenue survives and now houses a community center.
-----------------------------------------------------------
[ Back ]