First Electric Street Lights
------------------------------------------------------------------------------------------------------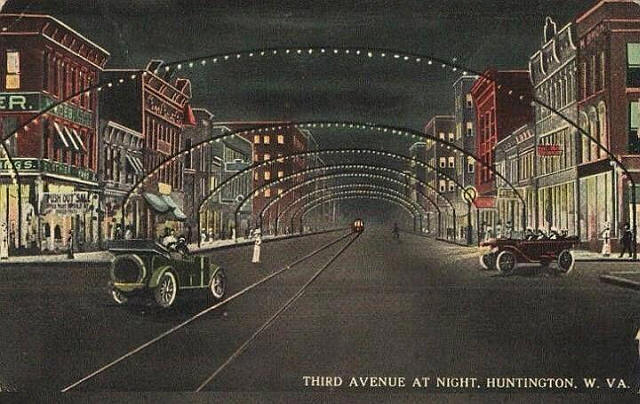 This undated postcard shows the city's downtown 3rd Avenue illuminated by street lights
mounted on overhanging metal arches. The scene shows two automobiles, thus probably
dates from the 1920s when autos were becoming increasingly common.
Courtesy James E. Casto
------------------------------------------------------------------------------------------------------

Downtown Huntington's first electric street lights were
turned on in the middle of November 1886
It was only four years earlier, in 1882, that legendary inventor Thomas Edison
built the first commercial electric generating station in New York City.
In a short time, electric plants were springing up all over
the country — Huntington being no exception.
A generating station was built on 4th Avenue between 9th and
10th streets. The station's generator was operated with
power from a steam engine at the Shore Planning
Mill located on an adjoining lot.
New-fangled light bulbs were mounted in a regularly
spaced series of metal arches that spanned
several blocks of 3rd Avenue.
On Nov. 20, 1886, an article in the Huntington Advertiser reported
on the first time the city's downtown was illuminated by electric
lights. The newspaper described a dark, wet night when
pedestrians who had, until that moment, been forced
to pick their careful way over hazardous streets
— until they hailed with joy the sudden brilliant
flash from "globes of electric fire."
Downtown's first street lighting system remained in operation
until 1899, when the city contracted for a new system
operated by the Huntington Electric Light
and Street Railway Co.
Local history doesn't tell when the metal arches spanning 3rd
Avenue were removed in favor of pole-mounted street
lights. Today, interestingly enough, it looks like
decorative metal arches may be coming
back to the downtown.
The City of Huntington is preparing a redesign of portions
on 8th, 9th and 10th streets. Preliminary sketches
of the work show decorative metal arches.
-----------------------------------------------------------
Note: This Article and picture appeared in the Herald-Dispatch Newspaper on Dec. 13, 2022..
-----------------------------------------------------------
[ Back ]