First Guyandotte Bridge
------------------------------------------------------------------------------------------------------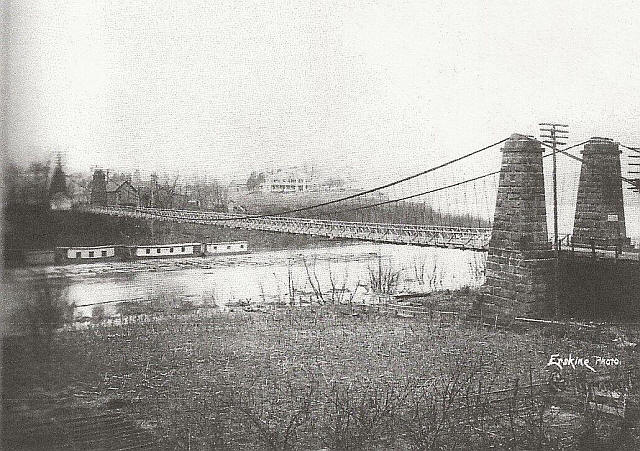 The first Guyandotte bridge, a suspension span,
was completed and opened in 1856.
Vintage postcard courtesy James E. Casto
------------------------------------------------------------------------------------------------------
Long before rail tycoon Collis P. Huntington arrived on the scene
and in 1871 founded the city that would carry his name, the
village of Guyandotte was a busy stagecoach stop
and an important steamboat landing
In 1854, John Laidley, Peter Cline Buffington and a half-dozen other
Guyandotte businessmen formed the Guyandotte Bridge Co. and
started work on a suspension bridge across the Guyandotte
River. The bridge was completed and opened in 1856.
Initially the span was a toll bridge, but the county
later acquired the bridge and removed the tolls.
In the postcard view of the bridge that accompanies this
article, houseboats can be seen tied up on the west
bank of the Guyandotte River. The hilltop
mansion built by Thomas Buffington
can be seen at the center
of the postcard.
People often are surprised to learn that Collis P. Huntington
never lived in his namesake city. His complex business
dealings required that he spend months of time
elsewhere. Thus he needed somebody who
could be in charge in his absence. He
found that man in his brother-in-law,
Delos W. Emmons.
Emmons bought the Buffington home. He remodeled
and enlarged it, naming it Pleasant View Manor.
The once-grand home at Staunton Avenue and
31st Street had various owners over the
years. Finally, in 2003, it was
demolished to make way
for a new building
erected by Hospice
of Huntington.
In 1907, the original Guyandotte suspension bridge was
replaced by a steel truss bridge. The new bridge,
which connected Guyandotte with Huntington's
3rd Avenue, had tracks and overhead wires
for the streetcars then operated by the
Ohio Valley Electric Railway.
Both the 1907 bridge and a similar steel truss bridge
that was erected across the Guyandotte at 5th
Avenue in 1926 have long since been
replaced by modern concrete span.
-----------------------------------------------------------
Note: This Article and picture appeared in the Herald-Dispatch Newspaper on May 2, 2023..
-----------------------------------------------------------
[ Back ]