Flatt and Scruggs
------------------------------------------------------------------------------------------------------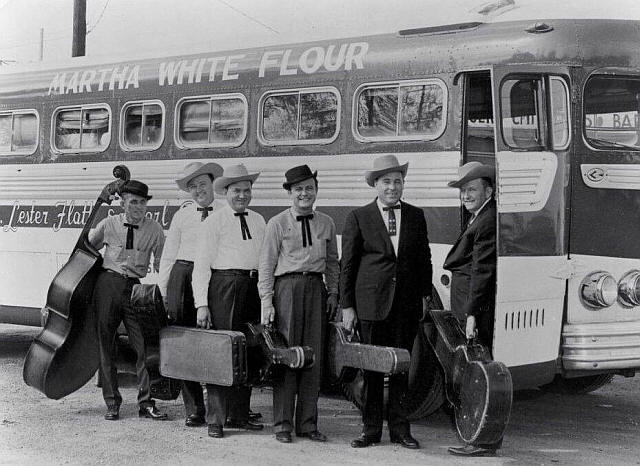 Lester Flatt, Earl Scruggs and their band members pose with their bus that took them to live TV
shows in a number of southern cities. Their first live show was aired from
the Huntington studio of WSAZ-TV on Feb. 2, 1955.
Courtesy of the University of North Carolina Library
------------------------------------------------------------------------------------------------------
Music historians view the duo of singer and guitarist Lester Flatt
and banjo player Earl Scruggs as one of the premier bluegrass
groups in the history of the genre. The two originally had
been members of Bill Monroe's band, the Bluegrass
Boys. In early 1948, they left to form their own
band, the Foggy Mountain Boys.
Although there were many factors that contributed to the
success of Flatt and Scruggs, television was one of
the most significant. Television gave them
unprecedented exposure and
name recognition.
According to bluegrass expert Richard F. Thompson, Feb. 2, 1955,
was the first time Flatt and Scruggs appeared on their own
television program. That first live show, sponsored by
Martha White Flour, was aired from the
Huntington studio of WSAZ-TV.
Thompson writes that within weeks of that first appearance,
Flatt and Scruggs had begun doing weekly live programs
in three Tennessee towns — Knoxville, Johnson City
and Jackson. Later they added still more southern
cities, logging as many as 2,500 miles a week
as they drove their bus from town to
town for the live programs.
With the advent of video recording, the band was able
to park their bus and record just one program at
WSMV-TV in Nashville, and then distribute
it to multiple markets.
Flatt and Scruggs had a distinctive sound that won them many fans.
In 1955, they became members of the Grand Ole Opry. Over
the years, Scruggs began experimenting on duets with
saxophonist King Curtis and adding songs by the
likes of Bob Dylan to the group's repertoire.
Flatt, a traditionalist, did not like these
changes, and the group broke
up in 1969.
Following the breakup, Lester Flatt founded the Nashville
Grass and Scruggs led the Earl Scruggs Revue. Flatt
died in 1979. Scruggs died in 2012. The duo
was elected to the Country Music
Hall of Fame in 1985.
-----------------------------------------------------------
Note: This Article and picture appeared in the Herald-Dispatch Newspaper on Nov. 22, 2022..
-----------------------------------------------------------
[ Back ]