Foster-Thornburg Hardware
------------------------------------------------------------------------------------------------------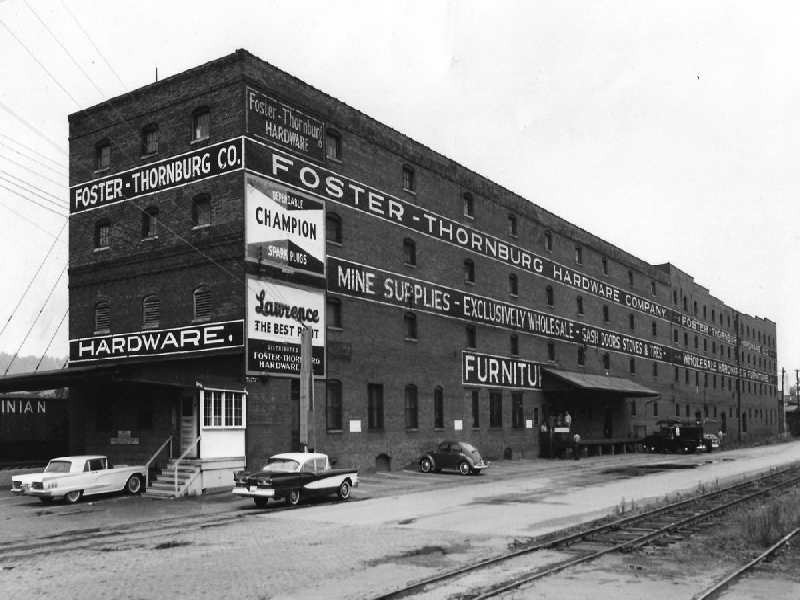 Foster-Thornburg Hardware operated in Huntington for more than 90 years.
------------------------------------------------------------------------------------------------------
HUNTINGTON -- A native of Maine, Bradley W. Foster (1834-1922) married Mary Lenora Huntington,
a niece of Collis P. Huntington, in 1868 and three years later the couple moved to the then-new town of
Huntington. On arriving, Foster built and operated one of the city's first hardware stores.
Located on the southwest corner of 3rd Avenue and 9th Street, Foster's store initially was a small frame structure.
In the 1890s, it was replaced by a three-story brick and stone building. The building still stands and for many years
was home to the Huntington Dry Goods Co. (later re-named the Huntington Store).
Shortly before his death in 1922, Foster decided to move his business, which had evolved into a wholesale firm, from
its original location to a new site at 2nd Avenue and 12th Street, where there was good rail access, meaning merchandise
could be bought in carload quantities. The combination office/warehouse building
erected there eventually stretched for almost two city blocks.
E. H. Thornburg succeeded Foster as the company's president and its name was changed to reflect that fact.
In the 1940s and 1950s, Foster-Thornburg's busy salesmen traveled 12 counties in West Virginia, 19 in Kentucky,
six in Ohio and three in Virginia, taking orders for hardware, furniture, plumbing and electrical supplies,
mine equipment and a wide variety of other merchandise.
In 1960, the Shelby Supply Co. of Shelby, North Carolina, purchased Foster-Thornburg. In 1965,
Shelby closed the long-time Huntington business, saying it didn't consider it "economically sound" to continue
its operation. By that time, the warehouse staff, which once numbered as many as 70 workers, had dwindled to eight.
In 1974, the vacant warehouse was demolished as part of Huntington's downtown urban renewal program.
-----------------------------------------------------------
Note: This Article and picture appeared in the Herald-Dispatch Newspaper on Apr. 27 , 2015
-----------------------------------------------------------
[ Back ]