Frank's Shoe Store
------------------------------------------------------------------------------------------------------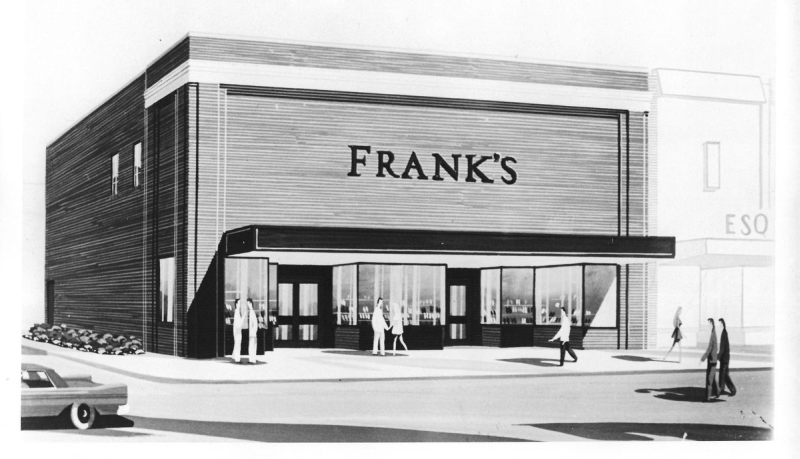 In 1973, Frank's Shoe Store moved into a new building, Shown here in an architect's sketch. The
new store was located just across the street from the shop's longtime 9th. Street address.
------------------------------------------------------------------------------------------------------
HUNTINGTON — A Fort Gay native, C. Frank Peters Sr. began selling shoes in downtown Huntington
right after he graduated from high school. The Huntington City Directory for 1938 listed him
as manager of the shoe department at the Anderson-Newcomb Co. store.
In 1939, he opened his own business, Frank's Bootery, at 326 10th St. Before long the
business had a new name, Frank's Shoe Store, and a new location at 319 9th St.
From the 1940s through the 1960s, Frank's was one of the most popular shoe shops in downtown
Huntington. In the early 1970s, the elder Peters and his son, Frank Peters Jr., realized
they had outgrown their longtime store building and needed to move to larger
quarters. After looking at various downtown sites, they determined the
best location would be right across the street from their old store.
They purchased the property at 320 9th Street from the Huntington Urban Renewal Authority
and broke ground for their new store in September 1972. Childers Construction Co.
was the general contractor and architect Larry Brown designed the new building.
Peters Sr. told the Sunday Herald-Advertiser that the new store would
have almost three times the square footage of the old location.
"Salesmen who travel this area say there's nothing like this," he said. "They tell
me we will have the largest and finest such store in the Tri-State area."
When the new store opened in June 1973, it offered women's shoes on
the main floor, with men's and children's shoes in the basement.
A second floor was used for storage and office space.
Frank Peters Sr. was elected president of the Huntington Retail Merchants Association
in 1974. He died in 1987 at age 80. Records in the West Virginia Secretary
of State's Office indicate the business closed in 1991. Today,
the former shoe store is an office building.
-----------------------------------------------------------
Note: This Article and picture appeared in the Herald-Dispatch Newspaper on Aug. 14, 2017.
-----------------------------------------------------------
[ Back ]