Frederick Hotel
------------------------------------------------------------------------------------------------------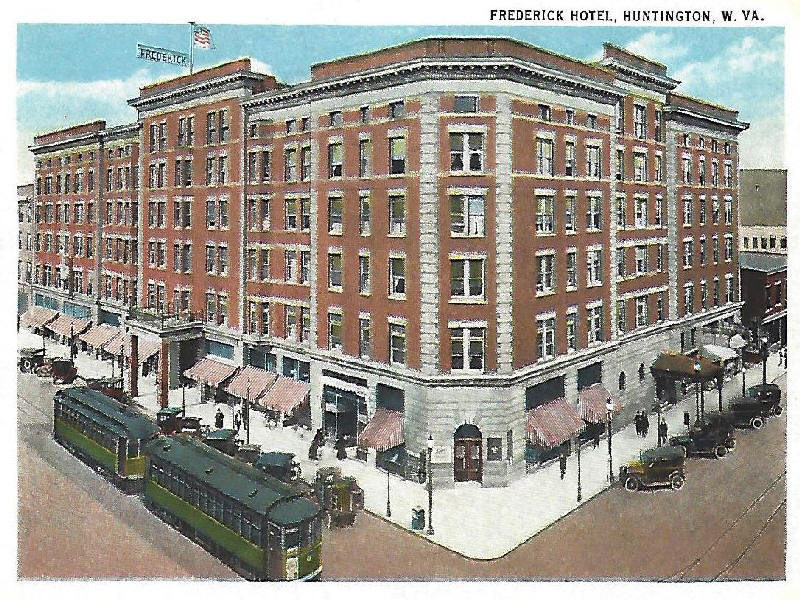 This vintage postcard of the Frederick Hotel is Undated, but the streetcars and the
automobiles parked at the hotel suggest it dates from the 1920s.
------------------------------------------------------------------------------------------------------
HUNTINGTON — It's been nearly a half century since the Frederick Hotel checked
out its last guest, but Huntingtonians still talk about it today.
In its heyday, the Frederick was said to be the most elegant hotel between Pittsburgh
and Cincinnati. A newspaper account published when it opened in 1906
hailed it as "the greatest building project ever begun in Huntington."
The statistics back up that claim. Construction of the grand hotel required 3.5 million
bricks, 4,000 lights, 282 miles of electrical wire, 200 telephones and five railroad
cars of glass for its windows. The owners put the total cost of their new
hotel at $400,000 and said they traveled to Chicago to pick
out $100,000 worth of furnishings.
Named for George Frederick Miller, the chief promoter and financier of the project, the
Frederick was designed in the neoclassical style by two prominent Huntington
architects, Edwin Alger and James Stewart. The building's well-preserved
facade is attributed to a special hard pressed brick used in its
construction. It was called repressed brick and was made
about 50 miles down the Ohio River in Portsmouth, Ohio.
The hotel offered 150 guest rooms (many with private bathrooms, something rare
at the time), 65 office spaces, two dining rooms, a ballroom, bar, billiard
room, Turkish bath, barbershop, cigar stand and pharmacy, along
with a variety of retail shops on its first floor along
4th Avenue and 10th Street.
It had its own emergency power generators in the basement and a large brilliantly colored
stained glass skylight over the lobby. Despite persistent rumors of a tunnel running
beneath 4th Avenue linking the Frederick and the Keith-Albee Theater,
no evidence of such a tunnel has ever been found.
The Frederick closed as a hotel in 1973. Today, the building is still a busy
place, housing apartments, offices, restaurants and retail stores.
-----------------------------------------------------------
Note: This Article and picture appeared in the Herald-Dispatch Newspaper on Sep. 24, 2018.
-----------------------------------------------------------
[ Back ]