Fret'n' Fiddle
------------------------------------------------------------------------------------------------------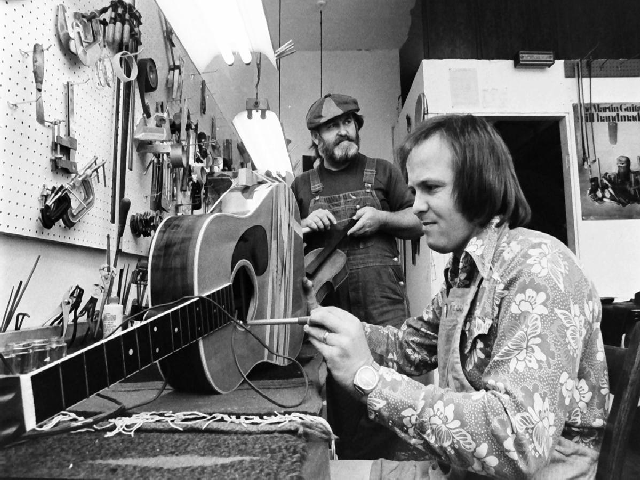 In a 1977 photograph, Joe Dobbs, standing at the rear, and his brother
Dennis are shown at work at their West 14th Street music shop.
------------------------------------------------------------------------------------------------------
HUNTINGTON -- The late Joe Dobbs was a fiddle-playing musical legend. Born in Mississippi,
where his grandfather was a fiddler, Dobbs was playing fiddle by the time he was 10
years old. As a young musician, he fiddled his way across the south and
southwest. When he turned 30 or so, he moved to West Virginia.
In 1976, Joe and his brother Dennis opened Fret 'n' Fiddle, a small shop on West 14th Street
where they sold and performed intricate repair work on guitars, banjos and fiddles. In 1981,
Joe and his daughter Diane moved the shop to Heritage Village in downtown Huntington.
James McClelland, director of the Huntington Board of Park Commissioners,
hailed Fret 'n' Fiddle as a perfect fit for Heritage Village.
"The idea of the village is to have a series of shops that provide an attractive
and unique shopping opportunity that isn't found anywhere in the Tri-State
area," McClelland said. "If that goal is to be reached, then we need
the type of West Virginia arts and crafts that together produce
an exciting and attractive shopping experience."
After a few years at Heritage Station, Joe moved the shop again,
this time to St. Albans, West Virginia, where it continued
in operation until its recent closure.
Over the years, Joe traveled and played all across the country and
even abroad. He was one of the founders of The 1937 Flood,
the popular musical group, and hosted "Music From The
Mountains," a bluegrass and traditional music program
that aired on West Virginia Public Radio for 25 years.
Joe Dobbs died in 2015 at age 82. Today he's remembered
as a gifted old-time musician whose shop was a
place where musical magic happened.
-----------------------------------------------------------
Note: This Article and picture appeared in the Herald-Dispatch Newspaper on Sep. 3, 2019
-----------------------------------------------------------
[ Back ]