GM Parade of Progress
------------------------------------------------------------------------------------------------------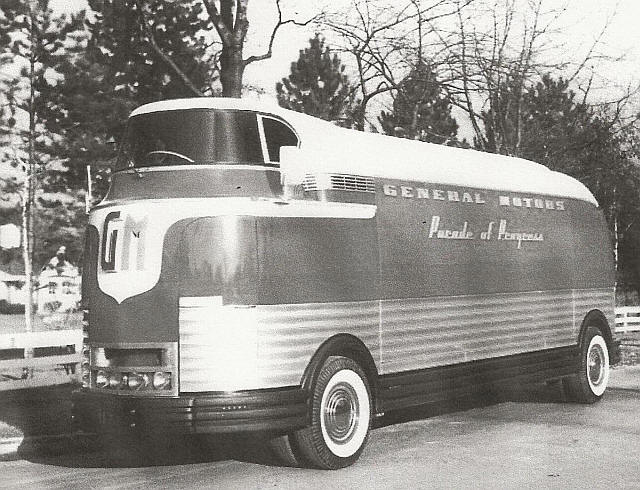 The GM Parade of Progress visited Huntington for a five-day stay beginning Oct. 28, 1953.

Courtesy of General Motors
------------------------------------------------------------------------------------------------------
Prompted by the success of its elaborate science and technology
exhibit at the 1933 Chicago World's Fair, General Motors
decided to take the show on the road.
GM built eight unique streamlined vans that carried the "Parade of Progress"
on a nationwide tour for three years. An updated show, which debuted
at the 1939 New York World's Fair, had 12 new vans. Dubbed
"Futureliners," the massive red and white vehicles looked a bit
like a cross between a truck and a bus. Each was 33 feet
long, more than 11 feet high and weighed 12 tons.
The Futureliners were essentially rolling theaters featuring different
aspects of science and technology. The 16-foot panels on either
side of each one folded up and down to create a stage.
A roof panel hid a lighting tower which extended
straight up to reveal a bank of flood lights.
The 1941 Japanese attack at Pearl Harbor took the second
"Parade of Progress" off the road. Then, in 1953, GM
launched a third version of its traveling road show.
Accompanying the streamliners were nine GMC and Chevrolet
tractor-trailers that hauled a variety of gear, including a giant
tent. Supported by external steel girders, the tent seated
1,500 spectators for a 45-minute stage show. Naturally,
the caravan included representative models of all six
GM auto lines — Chevy, Pontiac, Buick
Oldsmobile, LaSalle and Cadillac.
After it registered 2,000 miles,
each car was traded in
at a local dealership.
After appearing in Wheeling, the 1953 GM Parade of Progress
wheeled into Huntington, crossing the Ohio River via the old
6th Street Bridge and heading for St. Cloud Commons
to set up for a five-day show that opened Oct. 28.
While in Huntington, the 45 members of the
show's cast and crew checked into a
block of rooms at the
Hotel Frederick.
At the show grounds, the Futureliners were placed,
midway fashion, in front of the huge tent
that offered six free shows daily.
-----------------------------------------------------------
Note: This Article and picture appeared in the Herald-Dispatch Newspaper on Oct. 25, 2022..
-----------------------------------------------------------
[ Back ]