Gay Capers'
------------------------------------------------------------------------------------------------------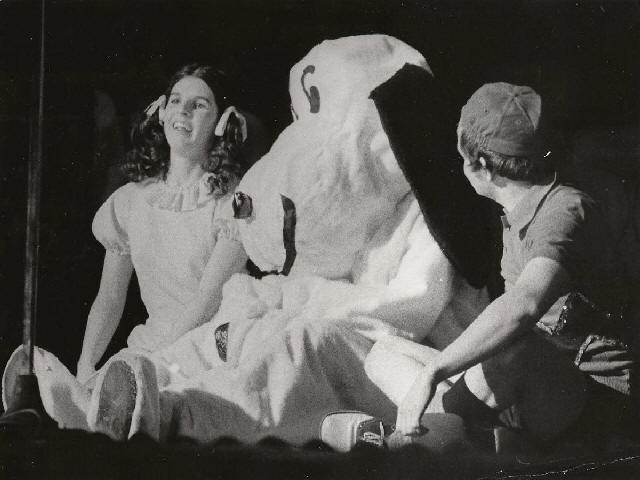 Mary Wilson as Lucy and Gary Wilson as Charlie Brown have a bit of fun with
Snoopy (Huck Raines) in a "Peanuts" skit, part of the 1975 edition of
"Gay Capers," the annual variety show presented by the Junior
Department of the Woman's Club of Huntington.
------------------------------------------------------------------------------------------------------
HUNTINGTON — Beginning in the mid-1950s and continuing for the next 25 years, the Junior Department
of the Woman's Club of Huntington presented "Gay Capers," an amateur variety show.
The first of the annual shows was performed in the auditorium of the old Huntington High School
in 1955. Subsequently, they were staged at the venerable Keith-Albee Theater.
The shows were done on a Friday night and then repeated Saturday night.
In an article about the 1962 edition of the show, Catherine Bliss Enslow,
the long-time society editor of the Huntington Advertiser, credited
Mrs. Eugene Reams with coining the name "Gay Capers"
for the amateur shindig. (For obvious reasons,
that name wouldn't work today.
More than 100 club members, their husbands, their friends and a host of
community volunteers took the stage to sing and dance in each year's
show. They also wrote the scripts, sewed the costumes, built the
sets, sold the tickets and did everything else necessary
to stage the annual event.
One year saw local television's Dean Sturm pressed into service as the host of a
teenage record hop. Another familiar face from television, Jule Huffman,
sang in almost all the shows. Popular local car dealer Dutch Miller
was the barker in one year's circus number. Believe it or not,
House of Delegates member Jody Smirl appeared as
Mother Goose one year. And when Marshall
University basketball coach Jule Rivlin
dressed as a chorus girl, it must have
been a sight to behold.
Proceeds from the yearly shows went to a number of local
charities until escalating costs forced the club to bring
down the curtain on the fun.
-----------------------------------------------------------
Note: This Article and picture appeared in the Herald-Dispatch Newspaper Feb. 04, 2020.
-----------------------------------------------------------
[ Back ]